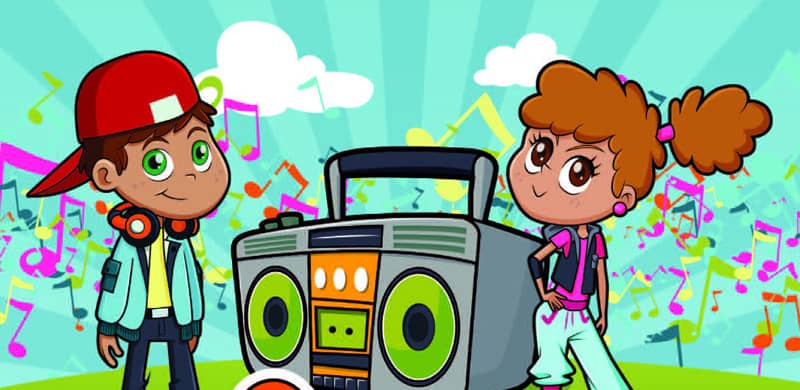 Hendersonville, TN (May 27th, 2016) – Parents and grandparents searching for wholesome, quality music for their children need not to look farther than the BoomBox Kids! Created by a mom who wanted her children to discover the truth based on songs she grew up with, and GRAMMY and Dove Award nominated songwriter and producer Aaron Rice (TobyMac, Mandisa), the BoomBox Kids is an album for kids made with parents in mind.
The BoomBox Kids was created to re-invent the popular 'Sunday School Songs' that many parents and grandparents have enjoyed for years, with dynamic, new lyrics that help drive home the heart and meaning of each song. With updated melodies and production, this album is one that parents, grandparents and children alike can enjoy together. You will hear children and popular voices in Christian music singing along with the songs. Volume 1 begins with the central figures, Max and Mia, finding their dad's old boombox full of this music. From there, it's a high-energy ride throughout with up-tempo tunes such as 'This Is the Day' and 'This Little Light Of Mine.'
BoomBox Kids Volume 1 is available at Christian retail stores across the country and digitally at iTunes and other online outlets. Bulk purchasing for gift and ministry purposes is available by calling 1.800.635.9581.
Daywind Records is home to an award-winning roster of artists, including Legacy Five, Adam Crabb, Browders, The Hoppers, Jim Brady Trio, Greater Vision, Joseph Habedank, Karen Peck & New River, Bowling Family, Tribute, Nelons, Brian Free & Assurance, Blackwood Brothers Quartet and Wilburn & Wilburn. Daywind is distributed to retail through New Day Christian Distributors, Sony Red, and all major digital outlets, including iTunes.
For more information, visit www.daywindrecords.com.
##
Media Contact:
Dani Phillips
publicity@daywind.com