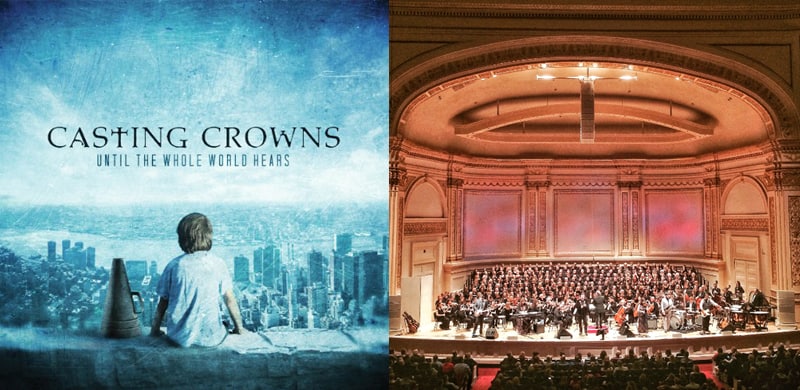 THRIVE NAMED BEST-SELLING RECORD OF 2014 ACCORDING TO THE CHRISTIAN/GOSPEL NEILSON SOUNDSCAN CHART
Los Angeles, Calif. (January 28, 2015) — Reunion/Beach Street Records artist Casting Crowns adds another RIAA Platinum album to its list of accolades with Until The Whole World Hears, making this the band's fifth studio recording to hit Platinum status. In addition, their latest release, THRIVE, was named the best-selling record of 2014 according the Christian/Gospel Nielsen SoundScan chart.
The record-breaking group also performed at New York's famed Carnegie Hall on January 24 as part of a full weekend with fans. The unique worship experience featured a 275-member choir (made up of fans from 44 states across the US as well as Canada) and a 40 piece (professional) orchestra. Not just a one-day event, Casting Crowns put together a three-day package that included rehearsals, time to hang out with the band and/or explore New York City. For fans who did not perform, the band offered a "friends and family" package that boasted many perks of its own, including backstage access at Carnegie Hall and a post-concert celebration dinner cruise to the Statue of Liberty.
Casting Crowns is one of the most successful Contemporary Christian artists with its RIAA 2x Platinum record (CASTING CROWNS), three RIAA Platinum albums (UNTIL THE WHOLE WORLD HEARS, THE ALTAR AND THE DOOR, LIFESONG) and two RIAA Gold albums (COME TO THE WELL and PEACE ON EARTH). Having also released four Gold DVDs and four RIAA Gold certified digital singles; the band currently holds the position as Billboard's top-selling act in Christian music since 2007.
The AMA, GRAMMY and Dove Award winning group features Mark Hall, Melodee DeVevo, Brian Scoggin, Megan Garrett, Juan DeVevo, Chris Huffman and Josh Mix, who have been recording and touring for more than 10 years — since they heard their first single on the radio in 2003. Casting Crowns has been honored with three American Music Awards (seven nominations), a GRAMMY Award for its 2005 album LIFESONG (six nominations), 17 GMA Dove Awards and two Billboard Music Awards (four nominations).
For more information, visit:
https://www.castingcrowns.com/
https://twitter.com/castingcrowns
https://www.facebook.com/castingcrowns
http://instagram.com/CastingCrownsOfficial#
https://www.youtube.com/user/CastingCrowns
##
Media Contact:
Rogers & Cowan
LESLEY BURBRIDGE
310/854-8170
lburbridge@rogersandcowan.com
TRACY COLE
310/871-8349
tcole@rogersandcowan.com
LORI LOUSARARIAN-HAKOLA
310/854-8104
llousararian@rogersandcowan.com