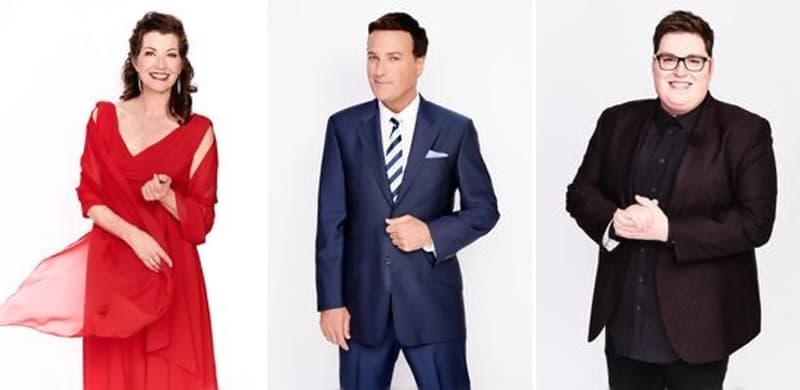 Tour to kick off on November 11 in Los Angeles
Nashville, Tenn. (Oct. 13, 2016) – In anticipation of the 2016 Christmas Tour kickoff, a humorous outtake reel from promotional footage with multi-platinum GRAMMY® winners Amy Grant and Michael W. Smith, joined by Jordan Smith, winner of NBC's The Voice, has been unveiled. The three artists obviously enjoy being together and the video contains outtakes from their attempts to record market specific liners for their tour. The 2016 Christmas Tour will begin on November 11 in Los Angeles, traveling to nearly 20 different major markets across the U.S. In addition, a portion of proceeds from the tour will help benefit Operation Christmas Child, known for distributing 135 million shoeboxes of Christmas gifts to children in need in 150 countries.
For more information on the 2016 Christmas Tour, visit amygrant.com/tour, michaelwsmith.com/tour or jordansmithofficial.com/tour.
About Amy Grant:
Amy Grant's career spans more than 30 years and stretches from her roots in gospel into becoming an iconic pop star, songwriter, television personality and philanthropist. With three multi-platinum albums, six platinum albums and four gold albums, her total career album sales have exceeded 30 million. Grant's chart success has been consistent throughout her career with six No. 1 hits, 10 Top 40 pop singles, 17 Top 40 Adult Contemporary tracks and multiple Contemporary Christian chart-toppers. In addition to her six GRAMMY® Awards, Grant has earned 26 Dove Awards (including four Artist of the Year Awards) and has been awarded a star on the Hollywood Walk of Fame. Conventional wisdom has it that Grant put Contemporary Christian Music on the map becoming the first Contemporary Christian artist to have a platinum record, the first to hit No. 1 on the Pop charts and the first to perform at the GRAMMY® Awards. With that, her legacy as one of the most influential artists of the past four decades is assured. In April, Grant celebrated the 25th anniversary of her iconic hit "Baby Baby" with a worldwide release of the song featuring pop sensation Tori Kelly. Tennessee Christmas (Oct. 21, 2016) will mark Grant's first all-new holiday album in nearly 20 years.
Get Connected with Amy Grant:
www.amygrant.com
Twitter
Facebook
Instagram
YouTube
About Michael W. Smith:
Michael W. Smith is an acclaimed singer, songwriter and musician who has sold more than 15 million albums, achieved 32 No. 1 songs, received 2x RIAA Multi Platinum, 6 Platinum and 16 Gold certified albums, earned three GRAMMY® Awards, one American Music Award and 45 Dove Awards. Amassing an in-depth catalog of achievements, Smith was honored at ASCAP's 100th Anniversary for his groundbreaking career and significant influence in music. He performed at Former First Lady Barbara Bush's 90th birthday celebration and also had the privilege to join Former President Clinton, U.S. Secretary of Homeland Security Jeh Johnson and others in remembering victims in the 20th Anniversary of the Oklahoma City attacks. Smith was appointed by the White House as Vice Chair for the President's Council on service and civic participation and, most recently, was the featured performer at the 2015 USO Gala and recognized as a USO veteran. In addition to the international impact he has had through multiple global tours, he has written and composed various scored film projects, has authored 12 books, has acted in assorted motion pictures and has been featured by numerous national media outlets. He founded, and actively supports, the teen club Rocketown – a nonprofit outreach for teens, providing opportunities in arts, music, sports and mentoring programs. This year also marks the 25th anniversary in partnership with Compassion International, seeing more than seventy thousand families' and children's lives changed, around the world.
Get Connected with Michael W. Smith:
www.michaelwsmith.com
Twitter
Facebook
Instagram
YouTube
About Jordan Smith:
Jordan Smith's much anticipated debut album, Something Beautiful [LightWorkers Media/Republic Records], is available now everywhere. Throughout the album, his undeniable delivery and instantly recognizable range drives both original songs and cover tracks produced by legends such as GRAMMY Award winning producer David Foster [Céline Dion, Michael Bublé, Josh Groban] and modern hit maker Stephan Moccio [The Weeknd, Ellie Goulding, Miley Cyrus]. The 22-year-old from Harlan, Ky., Jordan Smith stands out as the highest-selling artist to ever emerge from NBC's EMMY AWARD®-winning "The Voice." In less than six months, he sold over 1 million singles and made Voice history by landing eight songs in the iTunes Top 10—the first artist from any season to hit the iTunes Top 10 every single week of the Live Rounds. Of the eight songs that went Top 10 on iTunes, six hit Top 3, and three captured #1 on iTunes, all of which knocked Adele off the top spot!
Get Connected with Jordan Smith:
www.jordansmithofficial.com
Twitter
Facebook
Instagram
YouTube
About Operation Christmas Child:
Since 1993, Operation Christmas Child has collected more than 135 million gift-filled shoeboxes for children in more than 150 countries and territories. In 2016, Operation Christmas Child hopes to reach another 12 million children. To learn about year-round volunteer opportunities or to serve with Operation Christmas Child, visit samaritanspurse.org/occ.
##
Media Contact
Velvet Kelm & Courtney Hyder
the media collective
velvet@themcollective.com
courtney@themcollective.com
(615) 591-7989
www.themcollective.com
Tour Publicity Contact
Debra Akins
Southside Entertainment
debra@debraakins.com
(321) 747-0077