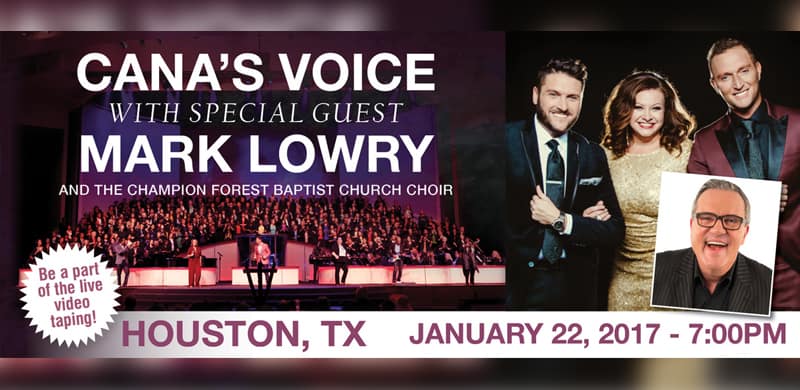 Free Audience Taping at Champion Forest Baptist Church Jan. 22
Nashville, Tenn. (Jan. 10, 2017) —- Cana's Voice remains a busy touring act and will start off the New Year with a live concert videotaping at Champion Forest Baptist Church, Houston, Texas on Jan. 22. Mark Lowry will be the special guest on the program, and the church's choir will join Cana's Voice on several songs. This will be a free concert, with an open invitation for anyone to attend and be a part of the live taping. Doors will open at 6 pm CST and the concert will begin at 7 pm CST. Cana's Voice will perform songs from their highly acclaimed 2016 project, This Changes Everything, and will also spotlight solo performances from Jody McBrayer, TaRanda Greene and Doug Anderson.
"We are extremely excited about recording our first, live concert video! Champion Forest Baptist Church has been like a second home for Cana's Voice so we cannot think of a better place to make this dream a reality," said McBrayer. "Then, on top of all this, we get to be there with our great friend, Mark Lowry. It's truly going to be an amazing night of celebration, laughter and worship. We hope that all of our friends can join us."
Brent Dyer, Worship Pastor, Champion Forest Baptist Church adds, "Every time I see, hear, or experience Cana's Voice I am amazed by their talent, passion, and heart. God is using them to usher people into His prescience every time they sing, and we are honored to have them at Champion Forest. You don't want to miss this event!"
Cana's Voice wrapped up a very successful launch of the trio last year, with This Changes Everything debuting No. 1 on iTunes Christian/Gospel chart and remaining in the top spot for three days. The album was also No. 1 on Soundscan's Inspirational chart for two weeks. The project also received rave reviews that included CCM Magazine "It's as good as any vocal group in Christian music," and New Release Today, "Cana's Voice will not disappoint!" Cana's Voice also launched a tour in support of This Changes Everything, with a kick-off concert in Nashville to a standing ovation audience, European dates in Norway and Sweden and being a featured guest on Dr. David Jeremiah's "Stand Up Tour." "Cana's Voice just filled up our stage and arena with their incredible sound! They are so good and so easy to work with," adds Dr. David Jeremiah, Founder and President, Turning Point Ministries.
Besides the Houston live taping and performance in 2017, Cana's Voice will be featured in the Southern Baptist Metro One Conference, Gaither Homecoming videotaping and the Turning Point Ministries Alaskan cruise. For continued updates about Cana's Voice: www.canasvoice.com; www.facebook.com/Canas-Voice, www.twitter.com/canasvoice, www.instagram.com/canasvoice.
About Cana's Voice
Cana's Voice is comprised of three powerhouse vocalists; Jody McBrayer, TaRanda Greene and Doug Anderson, who formed the group in January 2016. All three members are now solo artists signed to StowTown Records, who enjoyed previous, successful careers with McBrayer being a founding member of the award-winning group, Avalon; TaRanda Greene becoming the female vocalist for The Greenes in 1997; and Doug Anderson being a founding member of the Dove Award-winning group, Signature Sound. The trio's debut project, This Changes Everything, was one of the highly-anticipated projects of 2016, with CCM Magazine naming the record as "one of the five May new releases we like." The album debuted at the top of the charts for iTunes Christian/Gospel Chart and Soundscan's Inspirational Chart.
About StowTown Records
Founded in 2011 and expanded in 2014, StowTown Records reflects the musical vision of Ernie Haase and Wayne Haun, in partnership with Landon Beene and Nate Goble. The independent label is the creative home for several top artists in the Southern Gospel, Inspirational and CCM marketplaces, and quickly garnered industry attention with multiple Gospel Music Association Dove Awards and chart-topping releases. For more information, www.stowtownrecords.com.
##
Media Contact:
Janet Bozeman
615-472-8417
janet@bozemanmedia.com