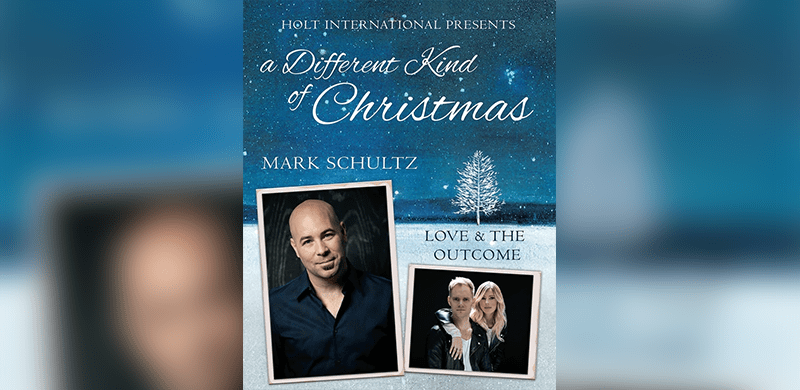 NASHVILLE, Tenn. – GMA Dove Award-winning and platinum-selling artist Mark Schultz will launch A Different Kind of Christmas Tour this December, joined by husband-and-wife duo Love & the Outcome. The annual holiday tour is in its third year and gets its name from Schultz's #1 holiday-themed radio single, "Different Kind of Christmas." The single went viral in December 2014, and its accompanying video has since been viewed more than 24 million times on Facebook and shared over 900,000 times. The song was inspired by the life of Schultz's father-in-law and was penned shortly after his passing.
A Different Kind of Christmas Tour will kick off Dec. 1, and hit cities in Michigan, Wisconsin, Ohio, Maryland, Tennessee, North Carolina, and possibly more. Audiences will be treated to Schultz's masterful storytelling, paired with Love & the Outcome's pop-rock stylings. Together, they'll create the perfect blend to ring in the Christmas season.
Tickets for A Different Kind of Christmas Tour are on sale now, and a special VIP ticket package is available in most markets, including early entry and a pre-show Q&A with the artists. For up-to-date information and to purchase tickets, visit www.markschultzmusic.com.
The Different Kind of Christmas Tour is presented by Holt International, which provides the tools and resources to uplift children and strengthen families in some of the world's most impoverished communities. Founded in 1956, Holt International is dedicated to finding and supporting permanent, loving families for orphaned, abandoned and vulnerable children. Holt is recognized as a leader in child welfare and permanency planning, providing services and advocating for the best interest of children while always upholding the highest ethical practices. Today, Holt International maintains active partnerships and programs in 13 countries. Visit www.holtinternational.org to learn more.
##