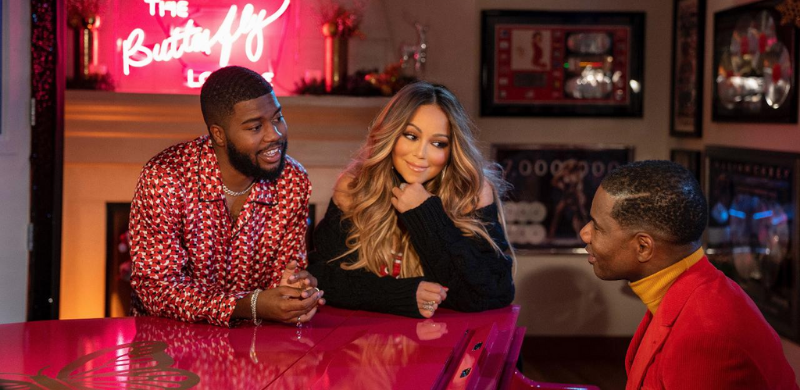 New York, NY (November 5, 2021) – Today, superstar, award-winning artists, Mariah Carey, Khalid and Kirk Franklin, debuted their new song, "Fall in Love at Christmas." The all-star collaboration was released by Carey's imprint, MARIAH, in partnership with RCA Records and RCA Inspiration.
Written and produced by Carey, Franklin and Daniel Moore, II, and recorded in Atlanta and Los Angeles at Carey's Butterfly Lounge recording studios, the R&B and Gospel infused ballad arrives just in time for the season. What promises to be a new holiday classic, "Fall in Love at Christmas" is streaming on all digital platforms. Today, the three artists also premiered the video for "Fall in Love at Christmas," which was directed by Carey and Bryan Tanaka. Filmed at Carey's home and the Butterfly Lounge in LA, the visual features her twins, Monroe and Moroccan, and evokes the warm and loving spirit of the holidays. For those who like CDs, a special, three-track CD can be purchased at Target and the official Mariah Carey Store (mariahcareyshop.com). It is available for pre-order now at mariahcareyshop.com and Target.com and will be in Target stores on December 3rd.
Following the release of "Fall in Love at Christmas," Mariah Carey will continue celebrating the season with a new holiday event on Apple TV+ in December, featuring the first and only exclusive performance of "Fall in Love at Christmas" with Carey, Khalid and Franklin.
Listen to "Fall in Love at Christmas" at: https://smarturl.it/FILAC
Watch the "Fall in Love at Christmas" video at: https://smarturl.it/FILAC/YouTube
##