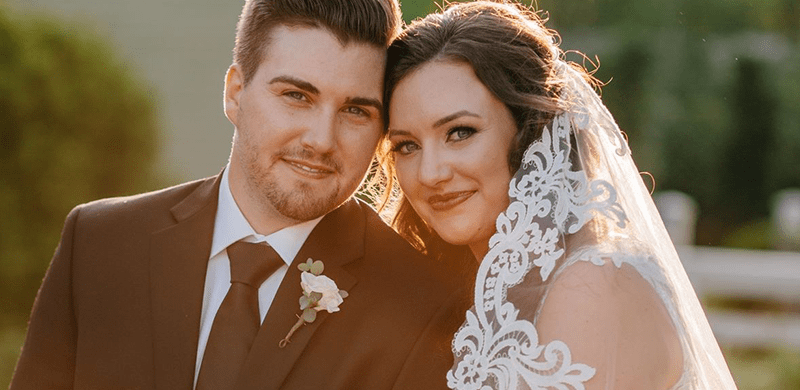 Dahlonega, GA – (June 6, 2018) – Five-time Grammy Award-nominated and six-time Dove Award winning family group, Karen Peck and New River are thrilled to announce the June 2nd marriage of Karen's son, Matthew Gooch to Preslee Mortenson. The wedding ceremony was held at Immanuel Baptist Church in beautiful Lexington, Kentucky.
The couple shared the news of their engagement last year, when Matthew proposed during a family trip to Israel. During the announcement Matthew so eloquently stated, "I can't wait to spend the rest of my life with this amazing woman!"
An award winning guitarist in his own right, Matthew was supported by many of the Southern Gospel community, including his best man Levi Bowman of The Isaacs, groomsmen Jared Stuffle from The Perry's, Bryce Free, the son of Brian Free, his cousin Joseph Jackson, Stone Carter of the Jay Stone Singers, Logan Smith of Eleventh Hour and family friend Nick Seecharan.
Also in the wedding party was Matron of Honor Morgan Astraus and bridesmaids Tori Mortenson, Kari Gooch of Karen Peck and New River, Caroline Kerrick, Elizabeth Maynard, Kelly Wilson and Mollie Such.
The ceremony was performed by longtime friend Pastor Bill Bailey. The music was provided by Larry Adams and Dr. Tim Dailey. Former Karen Peck and New River member and friend, Ricky Braddy, sang a beautiful rendition of "A Song For You" and " The Lord's Prayer".
In addition to traveling and playing with Karen Peck and New River, Matthew owns and operates Solid Ground Coffee. The couple will reside in Dahlonega, GA.
This has been an exciting year for Karen Peck. She was personally inducted into the Gospel Music Hall of Fame this past May, and Southern Gospel fans across the country celebrated this honor with her.
If you would like to interview Karen Peck and New River contact AG Publicity at info@agpublicity.com.
##