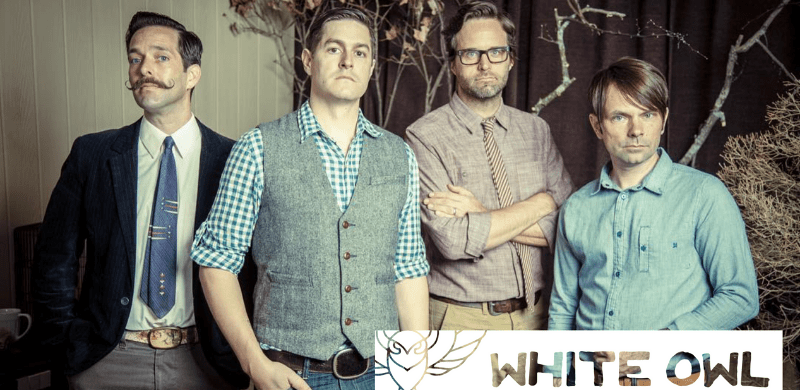 [Nashville, TN] – GRAMMY® Award-winning band Jars of Clay is set to perform live at the inaugural White Owl Music Fest just outside of Nashville, TN. Ever since this multi-platinum band decided to cut back on touring, it's become a rare gift to experience a live Jars of Clay concert. On May 29, they'll be headlining an all-day faith-based music festival that also includes performances by Sandra McCracken, Royce Lovett, Andrew Osenga, Taylor Leonhardt, and several more.
"Jars of Clay was my first and only pick to headline the event," shared Dave Trout, event organizer and President of UTR Media. "One of the things that has helped me through the years, and especially these last 12 months, has been meaningful, well-crafted music. All of the artists at this fest create music that is thoughtful, creative, and soul-filling. We can't wait to experience live music and community in a safe way."
On safety, UTR Media is building the event from the ground up to be mindful of pandemic protocols. This all-outdoor event will honor social-distancing, and will require all attendees to take a Covid questionnaire and get their temperature taken at the gate.
"It will be wonderful to play and experience live music again," stated singer-songwriter Andrew Osenga. "And it's all made sweeter because of bunch of the White Owl Music Fest artists are dear friends of mine who I've made music with for many years."
The fest will take place at Starstruck Farm in Lebanon, TN [a half hour east of Nashville]. This farm was formerly owned by legendary country superstar Reba McEntire. The beautiful 46-acre property also boast some unique lodging options, including one-of-a-kind renovated bed-n-breakfast suites converted from Reba's old 16-stall horse barn.
Tom Murphy of Louisville, KY has his ticket in hand and is excited to travel to Nashville for the event. "I know a lot of people who are hungry for the return of live music in a responsible and safe way," said Murphy. "I love the approach of the White Owl Music Fest. I am inviting many friends and family to attend."
UTR Media, the presenting organization, is a 501(c)(3) non-profit media organization, and proceeds from this event will support their ongoing non-profit work. All-Day Passes are available for May 29, and VIP Weekend passes are available for May 29-31 for some additional fun, including private concerts, an open mic time, community meals, and a downtown after party. Event, roster, and ticket information are at whiteowlmusicfest.com.