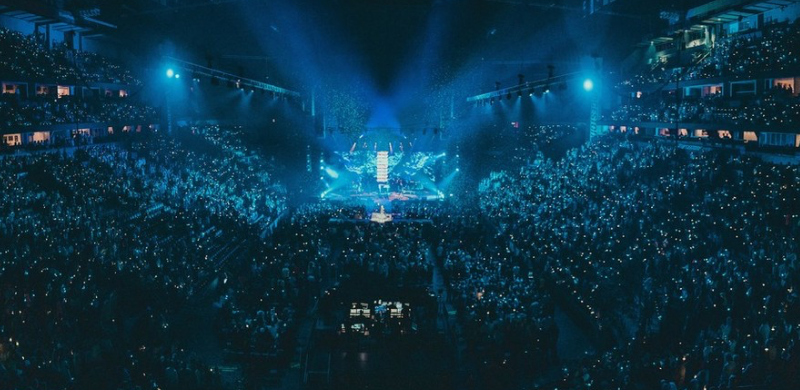 It is estimated that 20-30 million people across the world sing one of Chris Tomlin's songs every week in church services in nearly every language. Last Friday night, he expanded that reach to a global audience by exclusively premiering his Good Friday Nashville live event on Facebook. Chris delivered a powerful worship experience online and in person as he celebrated the historic return of the annual concert event to Bridgestone Arena after a two-year in person hiatus due to the pandemic. K-LOVE and Air1 radio partnered with Chris once again, this year delivering a live simulcast of the concert.
Chris was on stage from beginning to end of the two-and-a-half-hour concert and continued the tradition of surprise performers throughout the evening welcoming Hillsong UNITED and Katy Nichole as well as multi-Platinum trio Lady A to the stage. Hillary Scott of Lady A made a previous appearance at Good Friday Nashville in 2017 and the group is featured on Chris' 17th career and six-week #1 single "Who You Are To Me" from his #1 album Chris Tomlin & Friends. Additional past guests included Rascal Flatts in 2018 and Lauren Daigle in 2019. Friday night's show also featured a prayer from Tennessee Governor Bill Lee, a choir from Tennessee State University and Pastor, speaker and best-selling author Max Lucado who delivered a special Easter message based on John 3:16.
Last night, Chris' live performance of his brand-new single "Always" from the Good Friday concert released as the first of five music videos premiering exclusively on Facebook. "Always" is impacting at radio now with an official radio add date on May 13.
During the pandemic the last two years when a live concert was not possible, Chris was committed to finding a way to maintain the tradition in light of the inability to gather together physically. Chris called his friends to help and to partner together for Good Friday Worldwide. The television network TBN and more than 30 radio stations offered their support to bring the world together during this time. The virtual concert delivered the message of hope that comes from the cross while uniting the church in worship. The television broadcast was seen in 32 countries around the globe. In that spirit of unity and collaboration, everyone brought their unique gifts, audiences, and voices together to meet people wherever they were, all at the same time and in the same moment across this world, delivering the message of hope that comes from the cross while uniting the church in worship.
Good Friday Nashville was produced by Awakening Events who have enjoyed a 17-year touring relationship with Chris and offer their time and talents to this concert benefit as well.
2023 Good Friday Nashville is set for April 7. Tickets on sale HERE .
##