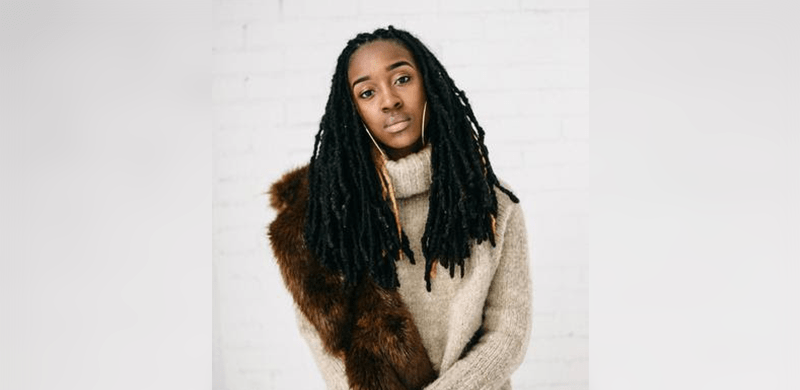 Female Rapper, Writer, Preacher and Poet
Balances Strength and Sensitivity on Newest Record
Nashville, Tenn. (Apr. 23, 2018) – Birthed out of one of the busiest times of her life, Jackie Hill Perry will release her sophomore album Crescendo (Humble Beast, Fair Trade Services) on May 11. The rapper, writer, preacher and poet presents a 14-piece collection of musical art that serves to reveal a journey that she has taken personally, spiritually and artistically. Amidst the rich tapestry of sounds, beats and words, the constant thread running through the growth-aligning Crescendo centers on Perry's sense of brokenness entrusted to God's care.
"A crescendo should be lowered at some point to grow," explains Perry. "It needs to include a place of lament. The truth of the Christian walk is weakness: It's riddled with suffering. I wanted an album that would carry the idea that how, when you grow in faith in Christ, your life gets louder. I wanted to make that connection: Our lives should be a constant crescendo. We should be growing in love for God and our neighbor. This is really a story about what it's like to grow."
Notable tracks found on Crescendo include, but are not limited to the urging first single "Fall Away," the courageous anthem "Woman" and the vulnerably driven "Mustard Seed." No Ways Tired" finds Perry taking her cue (and her title) from the gospel classic by the Rev. James Cleveland, "I Don't Feel No Ways Tired" while "Lamentations," a track that features Latifah Alattas of Page CXVI found its origin in one of the lowest parts of Perry's life.
In the spirit of growth and change, Perry says "there's a big difference when you write a record as a 24 year old as opposed to a 28 year old. I approach melody, content and rapping differently. I've been five years married now. I have a toddler. I'm in a different season and grateful that it took so long because it allowed me time to mature as a woman first."
Crescendo will be available at Apple Music, Spotify and Amazon.
Crescendo track listing:
Lamentations
Hush
No Ways Tired
Fall Away
Melodies
Thy Neighbor
Hymn
Mustard Seed
From Heaven
Woman
Restless
Maranatha
Crescendo
Reprise
About Jackie Hill Perry
Jackie Hill Perry is a prolific writer, speaker and artist. Her work has been viewed by millions online and featured in publications like the Washington Times, Desiring God and The Gospel Coalition, among others. She consistently tours at a wide range of speaking engagements, showcases and more and has plans to release a book later this year. The Art Of Joy released in 2014, marking her debut with Humble Beast Records. Her newest collection of music Crescendo (Humble Beast Records/Fair Trade Services) will be unveiled on May 11. The album follows an arch of experiences of someone working through their faith, digging into themes about womanhood, spiritual depression and wrestling with doubt as someone growing in knowledge, worship and obedience to God. At home, Perry is known as wife to Preston and mommy to Eden. The Perrys are expecting their second child this spring.
##