International Faith & Family Film Festival "Legends Awards" Luncheon at MegaFest 2017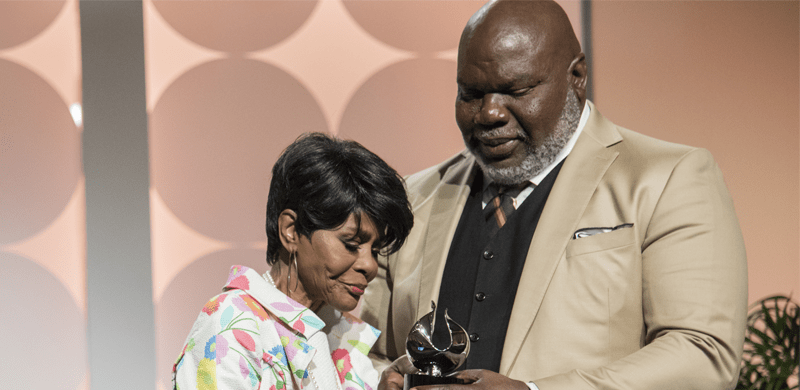 Photo Credit: Getty Images, Peter Larsen and Cooper Neill
Academy Award Nominated Actress Cicely Tyson Honored at Bishop T.D. Jakes' Inaugural Legends Awards
The Celebrated Actress Becomes the First Recipient of the International Faith and Family Film Festival's "Legends Award" in a Luncheon with Blair Underwood, Emmitt Smith and John Singleton
DALLAS (June 30, 2017)– Globally-renowned pastor, NYT bestselling author and entrepreneur Bishop T.D. Jakes' third biennial family-friendly conference, MegaFest, celebrated its first International Faith & Family Film Festival "LEGENDS Awards" Luncheon honoring actress Cicely Tyson ("The Help," ABC's "How To Get Away With Murder," "Fried Green Tomatoes"). Attended by Blair Underwood (ABC's "Quantico"), Emmy-nominated director John Singleton (FX's "Snowfall," FX's "The People v. OJ," "Boyz n the Hood"), NFL Hall of Famer Emmitt Smith, Brian White, Monique Coleman (ABC's "Dancing with the Stars") and more, the exclusive reception also featured special performance by Motown recording artist La'Porsha Renae of her hit song "Blessed Assurance" and MAJOR. with a personal serenade of his hit "This Is Why I Love You" to the honoree today.
Presented by the Bishop himself, Tyson, moved to tears by the program, opened her acceptance speech saying "I am absolutely speechless, breathless. My cup runneth over," to a standing ovation in the grand ballroom.
Hollywood stars and special guests gathered in celebration of Cicely Tyson's remarkable career with exclusive remarks from Bishop T.D. Jakes in an intimate seated lunch reception for the legendary actress. The Legends Award recognizes a Hollywood luminary who has been victorious, purposeful and incredibly impactful in the entertainment industry.
##