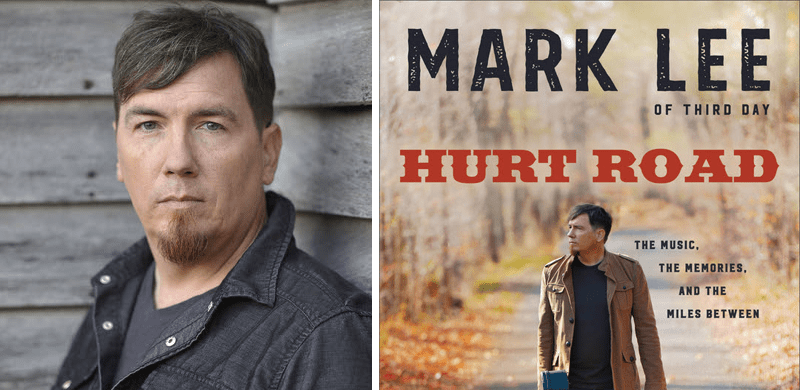 Franklin, Tenn. (June 20, 2017)—Revell, a division of Baker Publishing Group, announces they are releasing Hurt Road, the memoir from Mark Lee, on September 5. Lee is a founding member and guitarist for the multi-GRAMMY® Award winning group Third Day.
Hurt Road is the story of Mark Lee's dreams and successes, losses and heartaches, and all the miles in between; he knows all too well the road to success is never traveled without missteps along the way. His memoir is his engaging true story who, as a teenager, found music as a refuge from the uncertainties of life, then set out to discover a better way to live than to constantly struggle to make sure life turned out the way he planned.
One of the best things Lee has ever done is let go of his expectations about how life should be, to be able to embrace life as it is: a moment-by-moment walk with God. For those feeling knocked down or run over by their circumstances, Hurt Road will encourage them to give up control to the One who already has the road all mapped out.
Early comments have already come in about Hurt Road:
"In a style as thoughtful as it is entertaining, he offers great insights on how to stop chasing the 'what's next' and 'what-ifs' in order to experience God right now, even in the midst of a difficult situation." – Candace Cameron Bure, actress and author
"Mark shares honestly and openly how his personal faith has enabled him to overcome some of life's toughest hurdles. We are all different and yet, in many ways, we are the same. There are lessons we can learn from Mark that can be applied in our lives and our walk with the Lord Jesus. – Steve Bartkowski, two-time Pro Bowl quarterback for the Atlanta Falcons
"I have been and will be a Third Day fan for life, and getting to know Mark and hearing his story has made me come to love these guys even more. God has brought Mark through much, and his story will remind you of how big our God is!" – Mark Hall, lead singer of Casting Crowns
ABOUT MARK LEE:
Mark Lee is a founding member and guitarist for the award-winning Christian rock band Third Day, with thirteen albums and total sales approaching nine million. An accomplished songwriter ("Sky Falls Down," "Alien," "Show Me Your Glory," and more), Lee has also written for CCM Magazine, Guideposts for Teens, and others. While balancing touring with life as a husband and father, he earned his BA in Christian Studies from Grand Canyon University. He lives with his family outside Atlanta, Georgia.
Revell, a division of Baker Publishing Group, offers practical books that bring the Christian faith to everyday life. Whether through fiction, Christian living, self-help, marriage, family, or youth books, each Revell publication reflects relevance, integrity, and excellence.
Hurt Road (Revell; ISBN 9780800729004; ebook ISBN 9781493412471; $15.99)
To follow Mark Lee, please click on the social links below:
Twitter
Facebook
##