Gospel Music Association Presents New Broadcast, GMA Easter Celebration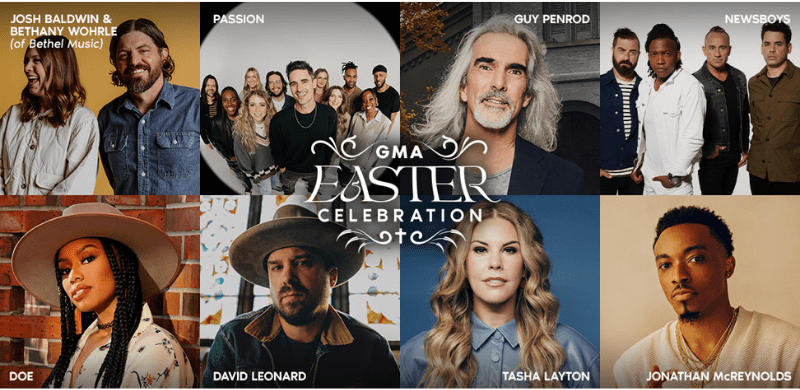 GOSPEL MUSIC ASSOCIATION PRESENTS NEW BROADCAST GMA EASTER CELEBRATION
Bethel Music ft. Josh Baldwin & Bethany Wohrle, David Leonard, DOE, Guy Penrod, Jonathan McReynolds, Newsboys, Passion, and Tasha Layton to perform
The broadcast will air exclusively on TBN and the TBN app, Tuesday, April 4th, 2023 at 8:00p.m. ET / 7:00p.m. CT
Nashville, TN (March 28th,, 2022) – The Gospel Music Association (GMA) has announced GMA Easter Celebration, a new annual broadcast event featuring special Easter performances from Christian and Gospel artists celebrating the death and resurrection of Jesus. Performers include Bethel Music ft. Josh Baldwin & Bethany Wohrle, David Leonard, DOE, Guy Penrod, Jonathan McReynolds, Newsboys, Passion, and Tasha Layton. GMA Easter Celebration will air exclusively on TBN and the TBN app, Tuesday, April 4th, 2023 at 8:00 p.m. ET / 7:00 p.m. CT. After the broadcast, GMA Easter Celebration will be available to stream all throughout Holy Week on the TBN app.
"We are thrilled to announce this new annual spring broadcast uniting our artists and songs for GMA Easter Celebration. The resurrection story is a cornerstone of the Christian faith and one we are privileged to honor through music."
-Jackie Patillo / President of the GMA
For ways to watch TBN, please visit TBN's Channel Finder here: http://bit.ly/FIND_TBN
GMA Easter Celebration is produced by the Gospel Music Association. Jackie Patillo and Justin Fratt serve as showrunners and executive producers, alongside Curtis Stoneberger and Paul Wright as producers. Stephen Fogleman is directing with Michael Nolan as scriptwriter.
About Gospel Music Association & Foundation:
Since 1964, the Gospel Music Association's mission has been to expose, promote and celebrate the Gospel through music. As a trade organization, the GMA serves creatives and professionals within the Christian and Gospel music industry. It supports ​​this richly diverse community by providing for basic needs through the GMA Foundation, preserving the legacies of the genre's trailblazers through the GMA Gospel Music Hall of Fame, and celebrating the work of today's artists through broadcast events like the GMA Dove Awards and Let Us Adore Him: A Christmas Celebration – which collectively reach millions of people around the world annually.
For more information about the Gospel Music Association, visit www.gospelmusic.org. Join the GMA social communities on Facebook, Instagram, TikTok, Twitter, YouTube and LinkedIn.
About TBN:
TBN is the world's most watched faith-and-family broadcasting network, reaching over 175 nations with inspirational programming in 14 languages and on 32 global networks. TBN, the original pioneer of faith-based television, is expanding into other marketplaces such as publishing and innovative digital content in various formats, all designed to reach every viewer demographic with the life-changing message of hope and grace. To find out more about the TBN Networks, visit us at tbn.org.
##