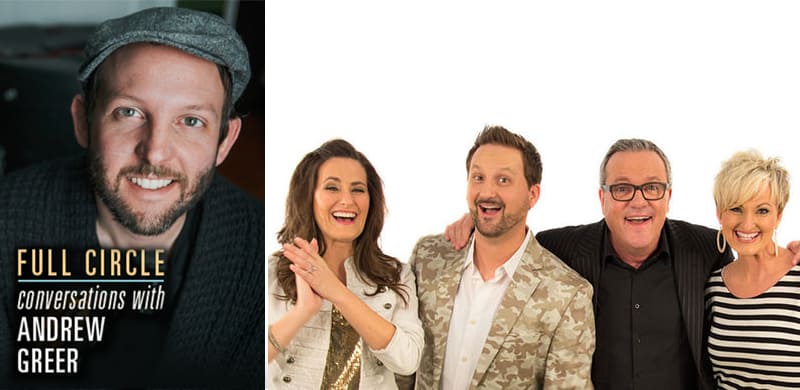 Join singer-songwriter Andrew Greer as he chats with Christian music history makers past and present
THIS MONTH: MARK LOWRY + THE MARTINS
Mark Lowry is one of gospel music's broadest talents. A singer, songwriter, author and comedian, for over twenty-five years Christian music fans have leaned on the hilarious singer for an uncommon blend of sidesplitting comic relief, thoughtful musicianship and deep spiritual insight. Raised in the church by a music-loving family, performing gospel music – and the hysterical monologues in between songs – was never just a hobby for the Grammy Award-winning Gospel Music Hall of Famer. It was truly a calling.
With a handful of Gold and Platinum-certified projects, Mark's sense for what tickles the listener's ear is not limited to his own catalog. He penned the modern Christmas classic, "Mary, Did You Know?" with fellow songwriter, Buddy Greene. And along with fellow Gaither Vocal Band alum, Michael English, Mark is credited for discovering multi-Dove Award winning sibling vocal group, The Martins. In a ladies' restroom. At a church.
If you are Mark Lowry, what better place to get business done?
Twenty years later, Mark and The Martins are coming full circle, joining forces for the first time on record and on the road – collaborating on Mark's latest record, How We Love (Green Hill) and an on-going nationwide tour together.
In this exclusive Gospel Music Association Full Circle conversation, the popular family trio and their zany mentor reminisce about their relationships – with music, the audience and each other.
How did you first meet The Martins? What is your original connection with the sibling trio?
Mark Lowry: In 1992, Michael English and I were walking around the National Quartet Convention and a little lady ran up to us, handed us a cassette tape and said, "I want you to hear my kids sing." Mike looked at me and said, "I've heard they're good." So we went in the bus and listened to a tape of The Martins. It was their mama who handed us the tape.
A few weeks later, Gaither was recording a new Homecoming video and Michael and I invited them to come, just to watch. We didn't even know if they would get to meet Bill Gaither, but we thought it would be fun for them to hang out with us. So they came.
We were standing in the lobby of this church the night before [the taping], because Bill had borrowed this church for everybody to meet in to rehearse – all the Homecoming singers. They were all alive then. Howard, Vestal, Hovie, JD, all of them. They were all there.
Gloria came walking through the lobby where Michael English, and I, and The Martins and a few others were standing. I grabbed Gloria by the arm and said, "You gotta' hear these kids sing." The only empty room I could find at the time was the ladies restroom, so we all walked in and The Martins sang "He Leadeth Me" a capella, in the ladies restroom.
Well that night Gloria told Bill what she heard in the restroom, and the next day when we were recording the Homecoming video, we were about to break for lunch and Bill said, "Where are those Martin kids?" They had not even met Bill yet. He had never even heard them sing. They walked out nervously from back in the studio where they were watching [the taping] on a monitor and sang, "He Leadeth Me". The rest is history.
The Martins are infamous for their tight harmonies. Dailey & Vincent and Sonya Isaacs, also known for their crazy good harmonizations, are featured on your new record. A large part of your music career includes your work with the Gaither Vocal Band. Again, known for tight harmonies. When and how were you first influenced by vocal harmonies?
Mark: Well, the first harmony I was associated with was harmonizing with my mother. Really, she always harmonized with me, because I always sang the lead. And she and my pastor's daughter in Houston had a trio, The Mark Lowry Trio. In my early teens, I had my own trio. [Laughs] We would travel around Texas and sing. It was a lot of fun.
But I have always loved harmony.
Of course our Baptist church had a choir. I heard a lot of great harmonies there. But I was eleven years old when I heard The Singing Rambos for the first time. I had never heard harmony like that. They were the biggest influence on my young years.
Your mother, Beverly Lowry, was a fine musician and a large influence in your life. How did losing her last year impact this recording?
Mark: Her song [on How We Love] is called "I Thirst". I also recorded it with her on my Broadway DVD [Mark Lowry on Broadway, Spring House, 2001]. That was way before dementia. She was still sharp as a tack. She was so beautiful. And she is one of the greatest singers I have ever heard. In her youth, she could put anybody to shame. She was amazing.
She was a big influence in my life. But when she died, she had already been through dementia, so I had already grieved. With dementia you lose people twice. You lose them when they lose their mind, and then when they finally die. So I had already grieved for mama. But her influence remains.
Joyce, Mark's new record, How We Love, features The Martins' on a new rendition of the traditional hymn, "When I Survey", in the form your fans love best – completely a capella. When and how were you first influenced by vocal harmonies?
Joyce Martin Sanders: We learned harmony very early. By the time we were 10, 8 and 7, Mom had taught us to sing three parts. We learned songs by harmony driven groups like The Rambos, The Gatlin Brothers, The Lanny Wolfe Trio and 2nd Chapter of Acts.
The group's latest recording, A Capella, is self-explanatory – songs recorded vocals-only. Your first a capella recording in 1996 was a huge hit. What inspired this new record, at this time?
Joyce: We love the challenge of a cappella music. We have been performing the songs from the old recording for twenty years, and we wanted some new songs to add to our live program.
Speaking of your live program, through the medium of music you three have deeply connected with your audiences. Why did you get into music as a profession in the first place? And what is your aim, now?
Joyce: We started singing together so early as a family, and we each felt the call to do it in a ministry capacity. It became our career, and we have lived a full life being able to perform Gospel music. It is so rewarding to know that something we love to do makes a positive impact in people's lives.
[Today] the road has a fresh passion for us. We feel like we have something to say to people who struggle and question their place in this world. Music gets us there. Our testimonies of God's faithfulness to our family keep us relevant.
Mark, the title cut of your new record – an incredible Beth Nielsen Chapman tune featuring The Martins – centers on the tag line "all that matters in the end is how we love". What inspired you to record and title your album after this tune?
Mark: I was sitting in my home when I first heard this song. Cynthia Clawson sat down at my piano and started singing it. I call it, "hearing from home". You know when you are hearing from home. It's that little E.T. light, "phone home", that you have in your chest, that starts shining. Or you get goosebumps. You think, I've never thought of this before. I've never heard it said like this before. But you know it's true. It was one of those moments.
I have never heard a song that is any more true than this one. I don't know how you can be more true than true; I guess that's kind of weird. "All that matters in the end". I think it was Maya Angelou who said, "People don't remember what you say, but they remember how you made them feel." [Actual Maya Angelou quote: "They may forget what you said, but they will never forget how you made them feel."]
That's the truth.
You could have the greatest message in the world, the greatest life in the world, the greatest whatever in the world, but if you don't make people feel welcomed and loved and included and part of your journey, you've really wasted a lot of time.
Many know you as well for your maniacal antics as your sensitive musicianship. How does humor and harmony play into each other for you – in your career, in your life, in how you relate to others and God?
Mark: I've always loved making people laugh. Of course, that got me in trouble when I was a kid because I didn't really know where the line was. Now I know where the line is, and I get as close to it as I can. And sometimes I'll stick a toe over it just to see what happens.
My whole life has been surrounded by music and harmony. My mother. My grandfather. I used to stand between my Nanny and Papa – this was when we didn't care that much about our children and we let them stand in the front seat – and we would sing all the way out into the country.
There was a country store somewhere in Texas. I don't know where because I was a little kid; I didn't know much about directions at the time. But they had this big round wheel of cheese. And we would get cheese and pig's feet and crackers, and drive back home and sing the whole time.
So music, harmony and humor are just so much a part of my life that I don't know how they interplay. I don't know where one stops and one starts sometimes. But they are all just tools to get the Gospel out, I think. That's why God gives us a tongue so we can communicate, sing and be funny with. Thank God for the tongue.
##
About Mark Lowry: Mark is a singer, storyteller, humorist, author and songwriter, whose lyric to "Mary Did You Know?" resulted in one of the most loved modern Christmas songs of this century. Co-written with Buddy Greene, the perennial classic has been recorded more than 400 times by artists from every genre including: Reba McEntire, CeeLo Green, Pentatonix, Michael English, Kenny Rogers, Wynonna Judd, Sandi Patty, The Gaither Vocal Band and many others.
Mark spent more than 20 collective years as the baritone singer for the GRAMMY®-award-winning Gaither Vocal Band and served as the sidesplitting comedic sidekick for Bill Gaither through live concert tours and the best-selling Gaither HOMECOMING Video Series and television airings.
A deep thinker and student of theology with an outrageous sense of humor (for which he often credits his diagnosis with Attention Deficit Disorder), Mark's life work offers a long list of recordings and DVDs reflecting a wide range of influences, including Mark Lowry On Broadway (RIAA Certified Platinum), Mark Lowry Goes To Hollywood (RIAA Certified Gold), Best of Mark Lowry & Bill Gaither, Volumes I and II (RIAA Certified Gold), Life Gets Loud and most recently Unforgettable Classics. For more information, visit marklowry.com.
About The Martins: Siblings, Judy, Jonathan and Joyce Martin rose to national and international success in the 1990's, showcasing their stunning and distinctive harmonies before a vast array of audiences, from Bill Gaither's multi-award winning Homecoming Video and Concert Series to the White House to Carnegie Hall. Over the years the trio garnered six Gospel Music Association Dove Awards, a Grammy nomination and multiple hit songs.
In 2011, the Martins, who continue to be regularly featured on the popular Gaither Homecoming Video and Concert Series, released their first new recording in 10 years, produced by Rascal Flatts' Jay DeMarcus. Most recently, The Martins returned to the studio with long-time friend and producer, Michael English, to record a new a cappella hymns project. Released in May 2014, the recording features The Martins' unmatched and unmistakable family harmony. For more information visit: martinsonline.com.
About Andrew: Andrew Greer is a multiple Dove Award-nominated singer-songwriter and respected author. Andrew's affection for vintage hymns has been captured on his folk recordings, Angel Band: The Hymn Sessions and Angel Band: The Christmas Sessions – reaching the Top 10 on Amazon and iTunes mainstream charts respectively. His 2013 recording, All Things Bright & Beautiful, held the #1 spot on Nielsen Christian SoundScan's Instrumental chart for 25 consecutive weeks.
As co-creator for the innovative Hymns for Hunger Tour with Dove Award-winning singer-songwriter Cindy Morgan, Andrew has helped raise awareness and resources for local hunger relief organizations across the country. The humanitarian tour has been presented on over 100 dates nationwide, along with special performances at Billy Graham Evangelistic Association, HeavenFest, Samaritan's Purse and Amy Grant's "Tennessee Weekend".
Andrew has shared the stage with musical friends and folks like Amy Grant, Brandon Heath and Ginny Owens. As a songwriter, his songs have been recorded by artists like Jaci Velasquez, Nic Gonzales (of Salvador) and Seth & Nirva. As an author, his stories have appeared in publications like Christianity Today and In Touch. His first book – Transcending Mysteries: Who is God, and What Does He Want From Us? – released in 2015. For more information visit: andrew-greer.com or hymnsforhunger.com.