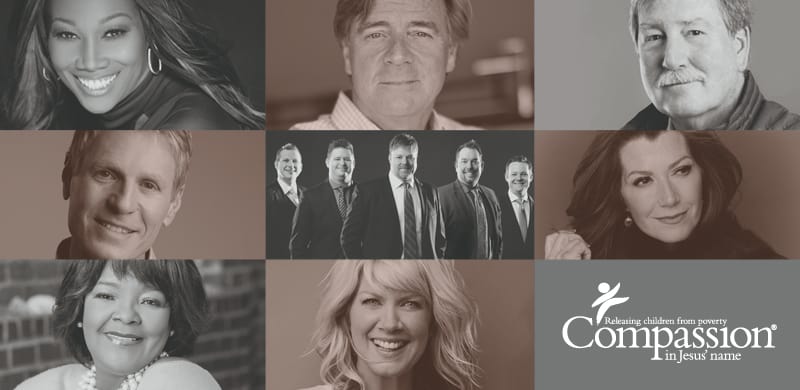 NASHVILLE, Tenn. (May 10, 2017) – GMA Foundation's annual GMA Honors celebration was held on Tuesday, May 9 at Lipscomb University. Steve Green, Yolanda Adams, Gold City Quartet and Michael Blanton and Dan Harrell were inducted into the GMA Gospel Music Hall of Fame. The event also honored individuals and organizations that are impacting our culture both past and present. This year's honorees were Amy Grant for Helping Hands, Dr. Shirley Caesar for Shirley Caesar Outreach Ministries, Compassion International and Natalie Grant for Hope for Justice.
For the first time, the GMA inducted legacy artists who soared in national prominence in the 1930s, '40s and '50s into the Gospel Music Hall of Fame by proclamation. This year's inductees included Dorothy Love Coates & The Gospel Harmonettes, The Roberta Martin Singers and The Harmonizing Four.
The event featured memorable tributes and performances from Christian and Gospel music all-stars. Amy Grant and Michael W. Smith sang their hits "El Shaddai" and "Friends" in honor of inductees Michael Blanton and Dan Harrell. Cece Winans, Donnie McClurkin and Jekalyn Carr sang a medley of Yolanda Adam's most popular hits including "The Battle is The Lord's," "Open My Heart" and "That Name." Danny Gokey and Kierra Sheard ended the night with a stirring rendition of "Better Than I Found It" accompanied by the Lamar Campbell & Spirit of Praise and the Nashville Super Choir. Numerous other artists and special guests presented tributes to the honorees, including Bart Millard, Dr. Bobby Jones, Clarke Beasley, Dick Tunney, Fred Hammond, Jaci Velasquez, Larnelle Harris, Percy Bady, Travis Cottrell and Tye Tribbett.
GMA Honors will return next year on May 8, 2018. For more information, visit the GMA Hall of Fame website here.
Event Highlights:
"We all know that Gospel music changes lives. It's a very powerful force…We always say 'the pioneers get the most arrows' and Amy Grant has truly been a pioneer. She has gone through battles, and she never wavered from who she loves and what she stands for." – John Huie introducing Amy Grant
"From the time that I was a little girl, I heard the voice of God telling me to do things, say things, write things. I had no idea that writing that would start me on the path to actually writing the songs of God's heart. When I get the chance to talk about my amazing life, it starts with an amazing relationship with God." – Yolanda Adams
"Proverbs says 'Speak up for those who cannot speak for themselves.' That wasn't a suggestion. It doesn't say if it is convenient, speak up. If it feels good, speak up. If it makes sense, speak up. It just says speak up for those who cannot speak for themselves and I will continue to do that. I am so grateful for the Gospel Music Association for making room for an issue and a topic that is uncomfortable but must be spoken about." – Natalie Grant for Hope for Justice
About Gospel Music Association & Foundation:
Founded in 1964, the Gospel Music Association and Foundation serves as the face and voice for the Gospel/Christian music community and is dedicated to exposing, promoting and celebrating the Gospel through music of all styles. The GMA produces the GMA Dove Awards, The GMA Hall of Fame Induction and Honors Ceremony and the IMMERSE Conference. For more on supporting the GMA or becoming a member, please visit www.gospelmusic.org.
Photo credit: Rick Diamond
For more information, visit the GMA Hall of Fame website here.
##