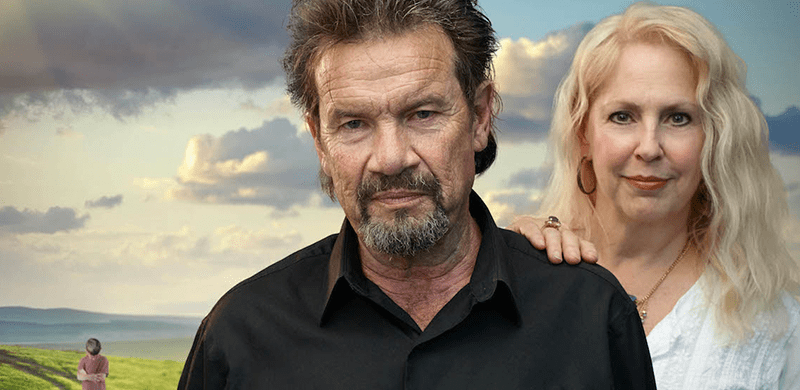 DENVER — From Fathom Events and Fuseic Entertainment comes the compelling documentary "Russ Taff: I Still Believe," chronicling the multi-GRAMMY® and Dove Award-winning star's unparalleled musical journey and behind-the-scenes battle with alcoholism.
Playing in cinemas nationwide October 30 at 7:00 p.m. local time, this one-night inspirational event is not-to-be-missed. Immediately following the film, theater audiences will have the opportunity to view a special acoustic session with Taff and his friend, multi-GRAMMY® Award-winning singer/songwriter Steven Curtis Chapman.
Tickets for "Russ Taff: I Still Believe" can be purchased at FathomEvents.com and participating theater box offices.
Fathom Events and Fuseic Entertainment present "Russ Taff: I Still Believe" in nearly 600 select movie theaters on October 30 through Fathom's Digital Broadcast Network (DBN). For a complete list of theater locations, visit the Fathom Events website (theaters and participants are subject to change).
Acclaimed director Rick Altizer ("Chonda Pierce: Laughing in the Dark") traces Taff's iconic four-decade career, as well as the childhood trauma he suffered at the hands of an alcoholic father and abusive mother.
Unable to overcome his shame for many years, Taff turned to alcohol, distancing his family, threatening his career and jeopardizing his life. In "Russ Taff: I Still Believe" the award-winning Gospel singer candidly reveals how a tumultuous past fueled his own addiction and the ultimate healing he embraced in the power of Christ's love and forgiveness. "I Still Believe" also shines an important spotlight on Taff's wife of 42 years, Tori. Her tough love, fervent prayers and unfailing devotion helped her husband find freedom from his past through God's mercy.
The film includes appearances from such legendary artists and entertainers as Amy Grant, MercyMe's Bart Millard, Michael W. Smith, Newsboys' Michael Tait, Bill Gaither, and comedians Mark Lowry and Chonda Pierce.
"In this feature, Russ Taff highlights a very important issue—alcoholism—and his journey to overcome that addiction," Fathom Events CEO Ray Nutt said. "Events like this offer people the opportunity to reflect on their lives and begin to have conversations around a very real cultural issue."
About Fathom Events
Fathom Events is the leading event cinema distributor with theater locations in all top 100 DMAs® (Designated Market Areas) and ranks as one of the largest overall theater content distributors. Owned by AMC Entertainment Inc. (NYSE: AMC), Cinemark Holdings, Inc. (NYSE: CNK) and Regal Entertainment Group (NYSE: RGC), Fathom Events offers a variety of unique entertainment events in movie theaters such as live performances of the Metropolitan Opera, top Broadway stage productions, major sporting events, epic concerts, the yearlong TCM Big Screen Classics series, inspirational events and popular anime franchises. Fathom Events takes audiences behind the scenes for unique extras including audience Q&As, backstage footage and interviews with cast and crew, creating the ultimate VIP experience. Fathom Events' live Digital Broadcast Network ("DBN") is the largest cinema broadcast network in North America, bringing live and pre-recorded events to 941 locations and 1,496 screens in 181 DMAs. The company also provides corporations a compelling national footprint for hosting employee meetings, customer rewards events and new product launches. For more information, visit FathomEvents.com.
About Russ Taff
Hailed by Billboard magazine as "the single most electrifying voice in Christian music," Russ Taff has garnered six GRAMMY® Awards and 18 Gospel Music Association Dove Awards. Inducted into the Gospel Music Association Hall of Fame an unprecedented three times—as a soloist, as well as a member of The Imperials and the Gaither Vocal Band—Taff is also a member of the Christian Music Hall of Fame and the Arkansas Walk of Fame. He has recorded 11 solo albums to date and his classic singles include "We Will Stand," "I'm Not Alone," "Not Gonna Bow" and "Love Is Not A Thing." From rock giants Kings of Leon to MercyMe's Bart Millard and Newsboys' Michael Tait, Taff's influence is felt throughout the music world.
About Fuseic Entertainment
Director Rick Altizer and producer Kent Songer launched Fuseic Entertainment in 2002 as a developer of proprietary music, animation and film projects that encourage, edify and strengthen faith and belief for individuals and families. Fuseic Entertainment releases include the award-winning 2015 box office hit, "Chonda Pierce: Laughing in the Dark," as well as last year's follow-up, "Chonda Pierce: Enough."
For further information, visit fathomevents.com or turningpointpr.com.
##