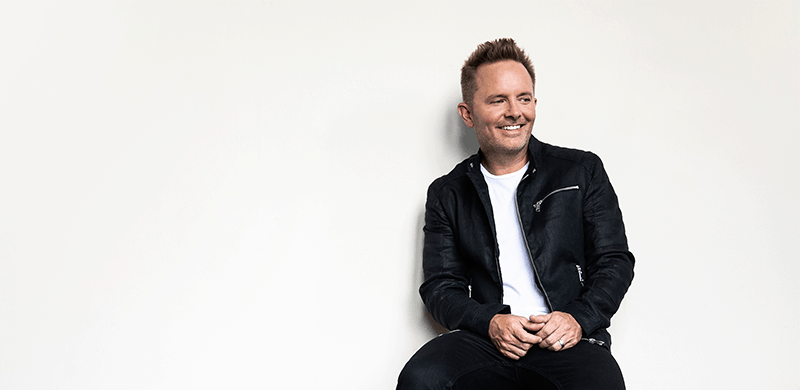 Nashville, TN (August 27, 2018) – After performing at the SoCal Harvest Festival that recently drew 100,000 to Angel Stadium, Grammy® winner Chris Tomlin is announcing he will return to Los Angeles in 2019 to headline the iconic Hollywood Bowl. WORSHIP AT HOLLYWOOD BOWL concert is set for Saturday, May 4, 2019, which coincides with Chris' birthday. Tickets will be available Monday, September 10 at 10am local time HERE. Pat Barrett is special guest.
"It's always a privilege to play in SoCal," shared Chris. "I have no doubt this will be a special night to remember. The vision of this iconic venue, The Hollywood Bowl, being filled with songs of praise to God will be breathtaking and electric!"
Chris' concert tours have sold-out venues in many major cities across the U.S. including New York City's Madison Square Garden, The Forum in Los Angeles, Nashville's Bridgestone Arena and Red Rocks in Denver, among others. His 2018 spring arena tour, "Worship Night in America Tour," (WNIA) wrapped in May gathering over 175,000 during its six-week run. The WNIA Tour unofficially launched with the second annual sold-out 'Good Friday Nashville' concert event held at Bridgestone Arena.
This fall, Chris will release a new studio album on October 26, HOLY ROAR, along with a companion book Holy Roar: 7 Words That Will Change the Way You Worship set for October 23. Chris expressed, "HOLY ROAR is the freedom, the experience, the wonder of worship. It is seeing the church come together, hands lifted to God, pouring out our praise with an eternal song in our hearts. It's every voice together, changing the way we worship."
About Chris Tomlin
Chris Tomlin is one of the most heralded singer-songwriters in the world who has amassed an impressive body of work. He has sold more than 8 million albums, 11.3 million digital tracks with 16 #1 singles. Chris is one of only four artists ever to receive the Sound Exchange Digital Radio Award for over 1 Billion digital radio streams, others include Justin Timberlake, Pitbull and Garth Brooks. The Grammy® winner's list of music awards include an American Music Award, 3 Billboard Music Awards, 21 Dove Awards, a BMI Songwriter of the Year Award and more. Chris marked another career milestone by launching his own imprint record label, Bowyer & Bow, in partnership with Capitol Christian Music Group.
For more information visit: www.christomlin.com or follow Chris on Twitter Instagram Facebook and YouTube .
##