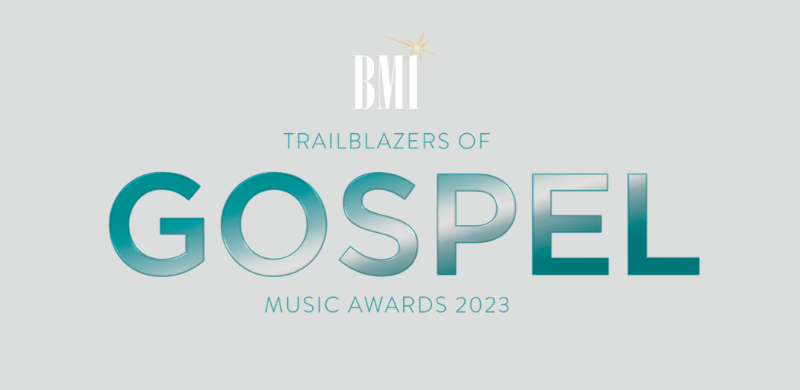 Winners were announced for the BMI Trailblazers of Gospel Music Awards 2023. The awards show paid tribute to the best in the Gospel music community and honored BMI's Gospel Song of the Year, Songwriter of the Year, Publisher of the Year and the top 25 Gospel songs of the previous year. BMI's President & CEO, Mike O'Neill and Vice President, Creative, Atlanta, Catherine Brewton hosted the event.
As a Trailblazer of Gospel Music honoree, Dr. Bobby Jones was saluted for his legendary career, mentorship of the next generation and his tireless contributions to the genre. The tribute performances honoring Jones' legacy kicked off with The Company singing "What a Friend," followed by a beautiful rendition of "Bring it to Jesus" featuring Beverly Crawford.
Tamela and David Mann were celebrated as BMI Trailblazers of Gospel Music for their exceptional success in the genre and beyond, both as stellar songwriters, artists and actors. The musical tributes to The Manns kicked-off with Zacardi Cortez and Anaysha Figueroa-Cooper giving a moving performance of "Now Behold the Lamb," followed by Lisa Knowles-Smith who gave a powerful rendition of "Take Me to the King." After accepting the honor and thanking those who have helped the husband-and-wife team along the way, Tamela Mann surprised the audience with an explosive performance of her mega-hit, "Change Me," which spent 23 weeks at number one on Billboard's Hot Gospel Chart.
Throughout the event, BMI saluted the Top 25 most-performed Gospel songs of the previous year, leading up to the coveted BMI Gospel Song of the Year, which went to "Believe For It" written by CeCe Winans and Mitch Wong (APRA). The song spent 12 weeks at the number one spot on Billboard's Hot Gospel Chart and garnered multiple accolades including two GMA Dove Awards and a GRAMMY for Best Contemporary Christian Music Performance/Song. BMI's Gospel Songwriter of the Year was a tie between Dante Bowe and Jonathan McReynolds for each writing two of the most performed Gospel songs of the previous year. Bowe was honored for "Joyful" and "Promises" and McReynolds for "Brighter" and "Grace." BMI's Gospel Publisher of the Year went to Be Essential Songs for having award-winning songs "Brighter," "Jireh," "Promises" and "Something Has to Break," among its repertoire.
Read HERE to see the full list of winners.
##