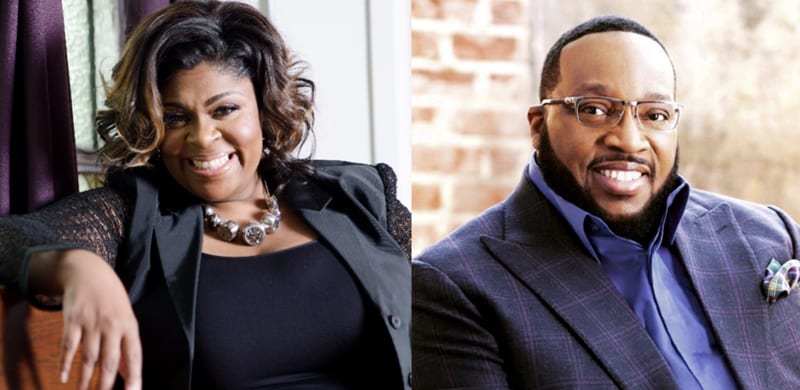 Gospel Music Legend and Former BMI Trailblazer Award Recipient Yolanda Adams to Co-Host with Gospel Singer-Songwriter VaShawn Mitchell
NEW YORK, November 28, 2016 – Broadcast Music, Inc.(BMI) will honor gospel music superstars Kim Burrell and Marvin Sapp at the 18th annual BMI Trailblazers of Gospel Music Honors at the Rialto Center for the Arts in Atlanta, GA on January 14, 2017. This inspirational event will pay tribute to the very best of the gospel music community with former Trailblazers award recipient Yolanda Adams returning to the stage as host alongside gospel singer-songwriter VaShawn Mitchell.
The invitation-only event, which is part industry celebration and part awe-inspiring worship service, will be attended by gospel music's premier songwriters, brightest stars, and leading industry executives. In addition to honoring Kim Burrell and Marvin Sapp, BMI will also announce the "Most Performed Gospel Song of the Year" during this uplifting evening of music and praise.
"BMI is thrilled to be back in Atlanta celebrating the brightest talent in gospel music today," said BMI Vice President, Writer/Publisher Relations in Atlanta, Catherine Brewton. "Kim Burrell and Marvin Sapp are paving the way for future generations of gospel songwriters by effortlessly crossing genres and exposing inspirational music to a wider audience. Both epitomize what it truly means to be a Trailblazer of gospel music and are positive role models in faith, charity and beyond."
Kim Burrell is revered by her peers in the music industry from both the spiritual and secular world. For over 30 years, the Houston native has been affectionately known as the "singer's singer," because of her distinctive voice which she attributes as a natural gift from the grace of God. Burrell continues to exercise her talents as a musician, songwriter, author, TV & Radio personality, producer, evangelist, and pastor throughout all of her endeavors. She has received many accolades including NAACP, Dove and Stellar Awards and multiple Grammy-nominations and has performed at many notable venues such as Carnegie Hall, Lincoln Jazz Center, Radio City Music Hall, Kennedy Center, The Experience at Lagos, and COZA (Nigeria) to name a few. Burrell has recorded seven solo albums and has been featured on several gospel albums with the likes of Andre Crouch, Marvin Winans, John P. Kee and Ricky Dillard. The gospel powerhouse has also appeared on albums from mainstream superstars such as Harry Connick, Jr. and Stevie Wonder, shared the stage with Renee Fleming and Whitney Houston, and was most recently asked to sing "I See Victory," produced by Pharrell Williams for the upcoming movie Hidden Figures.
Marvin Sapp is one of the most beloved voices in the gospel genre. Though he may be best known for his cross-over hit "Never Would Have Made It," those who really love gospel music know him for his timeless hits, "Not the Time nor the Place," "You are God Alone," and "I Believe" to name a few. Sapp has enjoyed a decorated 40-year music career, receiving 22 Stellar Awards, two Soul Train Music Awards, two BET Awards, two Dove Awards and eight BMI Songwriter's Awards along with many other honors from national, regional and local institutions. He is a multiple Grammy and Billboard Award nominee and, in 2015, was named Billboard's Top Male Gospel Artist. His most universal song, "Never Would Have Made It," topped Associated Press' "Best Song List" in 2008 and made radio history that year by becoming the longest-running No. 1 single across all formats. Sapp has one of the highest-ever Billboard Top-200 charting Gospel albums with his 2010 release Here I Am. His most recent project, You Shall Live, is Sapp's 10th album and his fourth consecutive #1 debut.
To request press credentials for the red carpet, please visit http://www.bmi.com/press#credentials and to learn more about our gospel music greats, please visit www.bmi.com/genres/gospel.
ABOUT BMI:
Celebrating over 76 years of service to songwriters, composers, music publishers and businesses, Broadcast Music, Inc.® (BMI®) is a global leader in music rights management, serving as an advocate for the value of music. BMI represents the public performance rights in nearly 12 million musical works created and owned by more than 750,000 songwriters, composers, and music publishers. The Company negotiates music license agreements and distributes the fees it generates as royalties to its affiliated writers and publishers when their songs are performed in public. In 1939, BMI created a groundbreaking open-door policy becoming the only performing rights organization to welcome and represent the creators of blues, jazz, country, and American roots music. Today, the musical compositions in BMI's repertoire, from chart toppers to perennial favorites, span all genres of music and are consistently among the most-performed hits of the year. For additional information and the latest BMI news, visit www.bmi.com, follow us on Twitter @BMI or stay connected through Broadcast Music, Inc.'s Facebook page.
PRESS CONTACTS:
Brittnee Walker, BMI
212.220.3134
bbwalker@bmi.com
Jodie Thomas, BMI
212.220.3142
jthomas@bmi.com