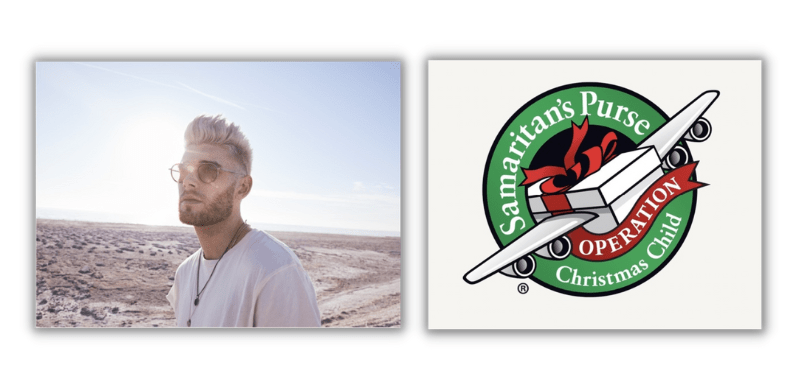 Samaritan's Purse plans to collect its 200 millionth Operation Christmas Child shoebox gift this year! It will be packed on a coast-to-coast tour by former shoebox recipient Elizabeth Groff who received her own shoebox in Ukraine when she was 11 years old. The tour hits Nashville this Wednesday, November 15, where American Idol alum Colton Dixon will join K-LOVE DJ Scott Smith and Groff to pack before she personally delivers the 200 millionth shoebox to a Ukrainian child this Christmas season.
Born and raised in Eastern Ukraine, Groff grew up in a broken family and ended up in an orphanage when she was only 7 years old. She was devastated by the tragedies in her family and felt very alone. While in the orphanage, she received an Operation Christmas Child shoebox gift. Because of the gift, she began to have hope that God would not leave her at rock bottom, but that He would meet her there, and become her family.
Groff's stops across the U.S. will begin in Denver and progress to Chicago, Nashville, Tennessee and Charlotte, North Carolina. She will reveal a voter-selected item at each stop. Anyone can vote by visiting the Operation Christmas Child Facebook page.
"We can all be part of changing a child's life simply by packing a shoebox full of fun, quality gifts," said Elizabeth Groff. "It may seem small, but it is powerful when delivered with a message of love and hope! It changed my life. Eighteen years ago, a shoebox gift opened my heart to God's Word, and now I have the opportunity to personally demonstrate God's love in a tangible way to a Ukrainian child. We serve a faithful God! Being able to pack and deliver this special shoebox gift will be a highlight of my Christmas season!"
During Operation Christmas Child's National Collection Week Nov. 14 – 21, Nashville area residents can bring gift-filled shoeboxes to multiple drop-off locations serving their communities.
Participants can also browse samaritanspurse.org/buildonline to Build a Shoebox Online. This tool provides convenience of online shopping and ability to select gifts matched to a child's specific age and gender, and the option to include photo and personal note of encouragement. Boxes built online go to hard-to-reach countries like Ukraine.
Operation Christmas Child, a project of Samaritan's Purse, seeks to demonstrate God's love in a tangible way to children in need around the world and, together with the local church worldwide, to share the Good News of Jesus Christ. Since 1993, Operation Christmas Child has collected and delivered more than 198 million gift-filled shoeboxes to children in more than 170 countries and territories. This year, Operation Christmas Child will collect its 200-millionth shoebox.
##