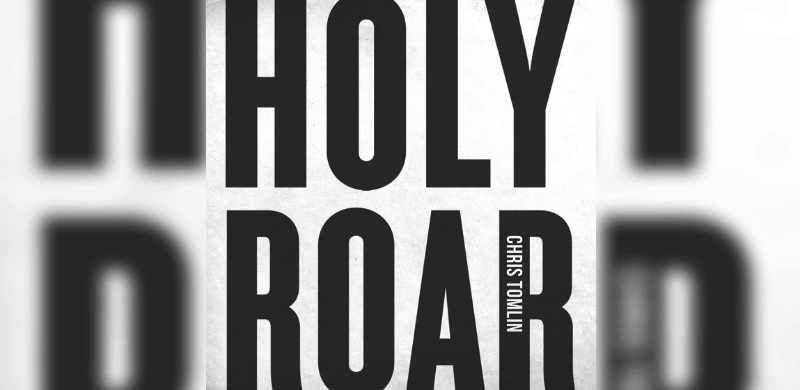 Nashville, TN – GRAMMY® winner Chris Tomlin revealed the HOLY ROAR album cover first to his followers on social media. The track listing for the new album is available as the preorder begins with all digital retailers!
HOLY ROAR track listing:
Holy Roar
Nobody Loves Me Like You
Resurrection Power
Goodness, Love And Mercy
Satisfied
Impact
Praise Him Forever
Is He Worthy?
Forever Young
I Stand In Awe (Feat. Nicole Serrano)
Praise Is The Highway
How Sweet It Is (Feat. Pat Barrett)
The HOLY ROAR album includes Chris' new single "Nobody Loves Me Like You," which was made available last month as part of a four-song digital only EP. The HOLY ROAR album was produced by Ed Cash and Bryan Fowler and is the follow up to Chris' NEVER LOSE SIGHT album that contains three of his 16 #1 singles including the Platinum selling "Good Good Father," "Jesus" and "Home."
On October 23, Thomas Nelson, part of HarperCollins Christian Publishing, will re-release Holy Roar: 7 Words That Will Change the Way You Worship written by Chris and Nashville's Church of the City Pastor Darren Whitehead. The book is available for preorder today.
Surrounding the HOLY ROAR album release, Chris will launch a Canadian tour in September and a Christmas tour was announced earlier this week, Chris Tomlin Christmas: Christmas Songs of Worship, scheduled to run November 30 to December 16, 2018. Tickets for the Christmas tour will be available on Wednesday, Sept. 12 at 10am local times at www.christomlin.com.
---
About Chris Tomlin
Chris Tomlin is one of the most heralded singer-songwriters in the world who has amassed an impressive body of work. He has sold more than 8 million albums, 11.3 million digital tracks with 16 #1 singles. Chris is one of only four artists ever to receive the Sound Exchange Digital Radio Award for over 1 Billion digital radio streams, others include Justin Timberlake, Pitbull and Garth Brooks. The GRAMMY® winner's list of music awards include an American Music Award, 3 Billboard Music Awards, 21 Dove Awards, a BMI Songwriter of the Year Award and more. Chris' concert tours have sold-out venues in major cities including New York City's Madison Square Garden, The Forum in Los Angeles, Nashville's Bridgestone Arena and Red Rocks in Denver, among others. This spring, Chris launched his own imprint record label, Bowyer & Bow, in partnership with Capitol Christian Music Group.
For more information visit: www.christomlin.com or follow Chris on Twitter, Instagram, Facebook, and YouTube.
##