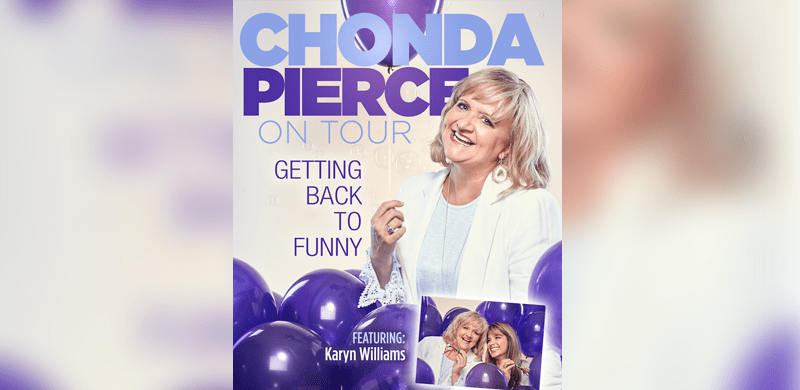 NASHVILLE, Tenn.—The best-selling female comedian of all time and beloved "Queen of Clean," Chonda Pierce returns to the road next month with her "Getting Back To Funny" Tour. Hitting more than 25 cities across the country, the fall outing will feature singer/songwriter, actress and author Karyn Williams.
An uplifting and encouraging night of laughter and music, the "Getting Back to Funny" Tour kicks off September 15 in Cleveland, Tennessee, and is slated to hit Austin, Texas; Springfield, Missouri; Peoria, Illinois; Montgomery, Alabama; and Lafayette, Louisiana, among other cities, before concluding November 19 in Cedar Rapids, Iowa.
"I love my job and I love the people that show up at my job," Pierce says. "But lately we have navigated through personal pain, tragedy, grief and depression together. This time around, I'm feeling stronger. I can breathe again and laugh harder, because I'm getting back to funny! And oh, what fun we are about to have!"
A stand-up comedian, television hostess, author and actress, Chonda Pierce has been making people laugh for more than two decades with her winning combination of fierce wit and southern charm. The Recording Industry Association of America's (RIAA) best-selling female comedian of all time, Pierce has six Platinum DVDs, three Gold DVDs and five Daytime Emmy® Award nominations to her credit and has been ranked among Pollstar's top-selling live performers.
Earlier this year, the premier of her second Fathom Events/Fuseic Entertainment one-night documentary, "Chonda Pierce: Enough," garnered the highest per screen average of all nationwide theatrical releases that day. The film's debut and encore presentations were viewed on a combined total of more than 1,500 screens around the country. "Enough" follows Pierce's 2015 award-winning documentary, "Laughing in the Dark," which chronicled her life in the wake of her husband's death.
Acclaimed singer/songwriter Karyn Williams' debut, Only You, features the hit single "Rest In Hope," which spent more than 30 weeks on the charts. Named among Billboard Magazine's "Best Bets" in 2012, Williams is also an actress and author, co-penning The Takeaway (HCI 2009) with her father, Orlando Magic Senior Vice President & Founder, Pat Williams. Her latest recording is Letting Go of Perfect.
For a complete list of "Getting Back To Funny" dates, as well as further information on Pierce, visit chonda.org or turningpointpr.com. Follow Pierce on Facebook and Twitter.
##