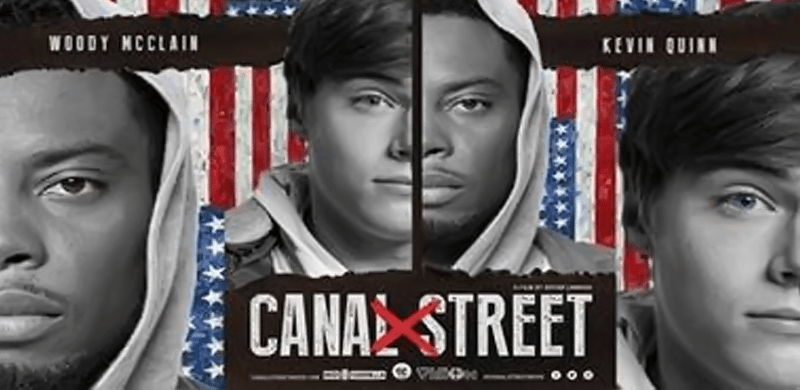 Christian Comic Arts Society to Deliver the Best In Talent, Themes & Topical Discussions of Faith at Comic-Con International
CCAS Partners With Upcoming 2018 Faith-Driven Film, CANAL STREET and Leading Hip-Hop Community Rapzilla.com to Showcase Major Talent at The Largest Comic Book & Pop Culture Convention in the World
July 17, 2017 San Diego, CA – The largest pop culture entertainment event in the world, COMIC-CON INTERNATIONAL: SAN DIEGO 2017 kicks off this week with sellout attendance of more than 125,000 per day with hundreds of thousands more attending related events in downtown San Diego. The CHRISTIAN COMIC ARTS SOCIETY (CCAS) is honored to partner with CANAL STREET and RAPZILLA.COM to deliver top talent, projects, and compelling events open to all Comic-Con attendees.
Christian Comic Arts Society in partnership with CANAL STREET will be hosting three events as part of the official Comic-Con programming, and will exhibit throughout the convention in the Small Press area #P-08.
Red Guerrilla Productions' Faith-Driven film CANAL STREET is directed by Rhyan LaMarr and features Bryshere Y. Gray (Fox's "Empire"), Mykelti Williamson (FENCES), Mekhi Phifer (DIVERGENT), Kevin Quinn (The Disney Channel's "Bunk'd") and Woody McClain (BET's "The New Edition Story") leading an all-star ensemble cast. The film releases at the top of 2018. http://www.imdb.com/title/tt6183104/?ref_=nv_sr_1
Rapzilla is the Hip-Hop community for Christians, attracting people with a passion for faith and Hip-Hop culture. Their film crew will be shooting exclusive content at Comic-Con in support of CCAS and CANAL STREET. Rapzilla has a dedicated, largely millennial audience, generating 2.3 Million page views per month from 300,000 unique visitors, 75,000 email subscribers, 132,000+ Facebook Likes and 127,000+ YouTube subscribers who devour their Hip Hop lifestyle coverage of music, movies, books, events and causes.
Comic-Con events include:
Friday, 07/21/2017, 8:30-10:00pm Christian Comic Arts Society Mixer in Room 26AB
Join the Christian Comic Arts Society as they partner again with Geeky Guys for God for this annual mixer. This is an opportunity for Christian professionals, fans, artists, and writers to intermingle, socialize and network. There will be a trivia game and prizes will be awarded to those attendees who know their geek trivia. Panelists will include Scott A. Shuford – moderator (FrontGate Media), Joe Queen (Geeky Guys for God), Dan Lynch ("Bibleman") and special guest Adam Key, Producer/Writer from the forthcoming movie CANAL STREET, and other special guests.
Saturday, 07/22/2017, 7:00-8:00pm Spiritual Themes in Comics in Room 4
This will mark the 20th year that the Christian Comic Arts Society has hosted the Spiritual Themes in Comics panel at Comic-Con. As spiritual themes continue to be explored in movies like WONDER WOMAN, comics, science fiction, and fantasy, panelists will delve into and examine how spiritual themes influence the entertainment industry and how the reality of spiritual beliefs impact the culture's perception of spiritual influences. Panelists include B. Dave Walters (Electropunk), Travis Hanson (Beanleaf Press), Buzz Dixon (Serenity), Scott Mercano (Diablo Publishing), Adam Key & Kevin Quinn (CANAL STREET) and Geoff Strout – moderator (Faithful Creative).
Sunday, 9:30-11:00am, Open Meeting of the Christian Comic Arts Society in Room 28DF
Join the Christian Comic Arts Society, Geeks4God, and Geeky Guys for God as they host this Sunday morning meeting. It begins at 9:30am with worship by Brendan Prout, Sam and Leia Hornedo, and Josh Sims. Christian professionals in the entertainment industry will discuss their faith and how it influences their professional lives, their decisions, and the creative process. Panelists include Sergio Cariello (Action Bible), Rhyan LaMarr & Woody McClain (CANAL STREET), Kelly Fellows (Next Gen Foursquare Leader), Carmi Greene (Actress), Scott Zambelli (Topps- Transformers, Lucasfilm – Star Wars) and moderator Ralph Miley (CCAS President). Room 28DE
Also, as in years past, CCAS will be featuring book signings and giveaways throughout the weekend at their booth, #P-08.
For more information on the Comic-Con International: San Diego, go to: http://www.comic-con.org.
ABOUT CHRISTIAN COMIC ARTS SOCIETY
Christian Comic Arts Society (CCAS) was formed in 1984 to locate and link Christians interested or active in the comic book/graphic novel medium. CCAS sponsors comic industry activities at various comic conventions across the country, and Alpha Omega, the APA of Christian comics. The goal and purpose of CCAS is to support Christian professionals, hopefuls and enthusiasts within the Comic Book and related industries by providing opportunities for: 1. The sharing of the Christian message and our Christian faith, primarily within and through the comic book industry and art form. 2. Mentoring, training, friendship and networking. 3. The collaboration on and creation of visual storytelling. The CCAS is governed by a volunteer board which includes Ralph Miley (New Creation,) Holly Knevelbaard (Illustrator,) Clint D. Johnson ("FaithWalker",) Luis Serrano ("Samson The Nazirite/Rooted Chronicles") and Scott A. Shuford (FrontGate Media) along with numerous volunteers from the comic industry and the Church. For more information on the Christian Comic Arts Society, go to: www.ChristianComicArts.com, Facebook.com/ChristianComicArts, or Twitter.com/ChristianComics.
ABOUT CANAL STREET
In 2017, America needs a hard detour. Canal Street is a story about our America and the reasons for deep-seated fissions within it. The film sets the table for a much-needed national discussion by appealing to themes of family, friendship, and forgiveness through its multi-cultural ensemble and genre-spanning music. The music, under the leadership of Amir Windom (DESPICABLE ME 2, COLLATERAL BEAUTY) serves as the perfect soundtrack moving us in emotion and music toward unison. The film speaks to what the majority truly want, and what is needed to turn fear into a minority. Follow CANAL STREET at @canalstreetmovie on Twitter, www.Facebook.com/canalstreetmovie, canalstreetmovie on Instagram and on the web at http://www.CanalStreetMovie.com.
##