Billboard's Top Christian Act Of 2017 Hillsong Worship Garners First-Ever GRAMMY® Nomination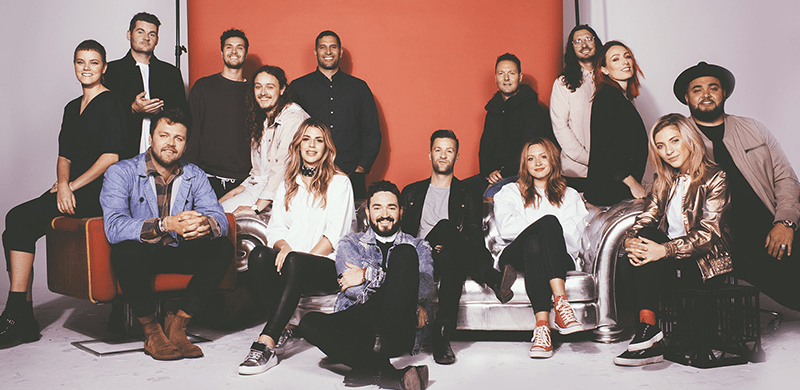 LOS ANGELES (Dec. 13, 2017) — For nearly three decades, multi-platinum selling Hillsong Worship has captured the hearts of nations and generations through its catalog of songs. Building on that legacy, the group garnered its first-ever GRAMMY® nomination for Best Contemporary Christian Music Performance/Song for their genre-smashing single, "What A Beautiful Name" that continues to be the fastest growing song in modern church history (100 million views on YouTube). The recent GRAMMY nod accompanies a host of other accolades banked this year for the worship collective. With unprecedented record sales and numerous award wins/nominations, including multiple victories at the 48th annual Dove Awards, Hillsong Worship received highest honor this week being named Billboard's Top Christian Artist of 2017 as well as its Top Christian Duo/Group.
"On behalf of our pastors and wider team at Hillsong Church, who endeavor to create a sense of home and welcome for all people, everywhere we gather, we are incredibly honored," says Hillsong Worship's Brooke Ligertwood. "Our songs and this sound is a key part of how we do that, and our prayer is that anyone in need of peace or hope today might experience the wonder of the very presence of God as they hear this music and the name and message of Jesus Christ therein."
With more than 20 million career album sales and over 1.5 billion career streams, the Australia-based worship collective has helped shape praise & worship over the last two decades through its catalog of songs that continue to be sung by an estimated 50 million churchgoers worldwide each week. Their award-winning single "What A Beautiful Name" spent nine consecutive weeks at #1 atop the National Christian Audience radio chart and remains the #1 most consumed track in Christian music. Concurrently, the single was named Billboard's No. 1 Hot Christian Song of the Year topping its Hot Christian Songs chart (which blends airplay, streaming and sales data) on Feb. 25 holding strong in the No. 1 position for 28 weeks (through the chart dated Dec. 16).
"There is no higher calling for a songwriter than to write that which expresses our most deepest held convictions and beliefs," says Hillsong Worship's Ben Fielding and Brooke Ligertwood. "'What A Beautiful Name' is one of the most transparent and important songs we have ever written. It is unapologetically about honoring the name of Jesus; a Name that is more beautiful, wonderful and powerful than any other. To have this song nominated for a GRAMMY is personally encouraging, but more importantly also carries with it the hope that all the attention might be focused on the Name which is the most deserving of celebration, the Name above all others, the Name of Jesus."
The recent GRAMMY nomination and Billboard honors come on the heels of the release of Hillsong Worship's Christmas album "Christmas: The Peace Project," the first from them in nearly five years. The 12-track holiday collection is currently available on iTunes, Spotify and anywhere else music is digitally sold. The upcoming 60th GRAMMY® award ceremony will take place on January 28, 2018 at Madison Square Garden in New York City.
"From the early days of Hillsong Church, having an environment that encourages the new song has been part of our DNA," adds Brian Houston, global senior pastor of Hillsong Church. "It is humbling that these songs frequently resonate across the globe and I don't think it's a coincidence that a song that is all about the name which is above every other name, the name of Jesus, is the song that has been honored this year with a GRAMMY nomination. Congratulations to Brooke and Ben for writing such a beautiful and heartfelt song."
##