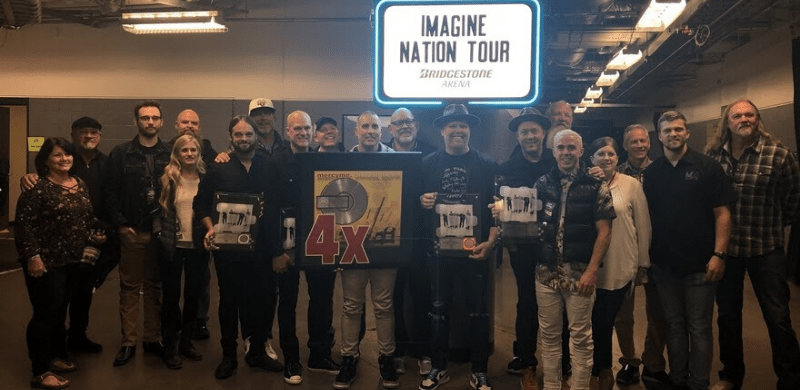 Nashville, TN (November 6, 2019) – Billboard has exclusively premiered the music video for current and reigning American Music Award nominee, MercyMe's latest hit single, "Almost Home." With massive adds in its first week from key stations including WAY-FM, Sirius XM, KLTY Dallas, WRBS Baltimore, KLJY St Louis, KJNW Kansas City, KSOS Las Vegas, WGTS Washington, DC, and KFIS Portland, the track is the most added at Christian radio this week with a cumulative 50 stations reporting, and already Top 25 on Billboard's Christian Airplay Chart.
About the video's storyline featuring an astronaut, lead singer Bart Millard told Billboard, "It's the idea of this guy, an astronaut just trying to live his life like a normal person, but not doing it super well with having to wear a spacesuit all the time…..we are trying to symbolize that all the people he came across in that video are there to lift him up and cheer him on and to say we're not in this alone, and also to start pulling off the helmet and the mask, because it's not needed."
MercyMe also recently celebrated two new RIAA certifications just before playing in front of a packed crowd at Nashville's Bridgestone Arena. Members of MeryMe's record label, FairTrade Services, met up with the band to present them with plaques commemorating two new achievements, as their debut album, Almost There, was RIAA Certified 4x Platinum and their 2018 single "Even If" was RIAA Certified Platinum.
Following back to back successful spring and fall 2019 Imagine Nation Tours, the MercyMe 20/20 Tour was also recently announced. Featuring Jeremy Camp and David Leonard, the tour will run February 13 through April 5, 2020. Hitting key markets including Houston, Indianapolis, Kansas City and Minneapolis, the MercyMe 2020 Tour will support the band's upcoming 2020 studio project.
2019 has reaped both GRAMMY® and Billboard Music Award nominations for the current American Music Award winners, all following the box office shattering film I CAN ONLY IMAGINE inspired by frontman Bart Millard's real-life story behind the beloved MercyMe song.