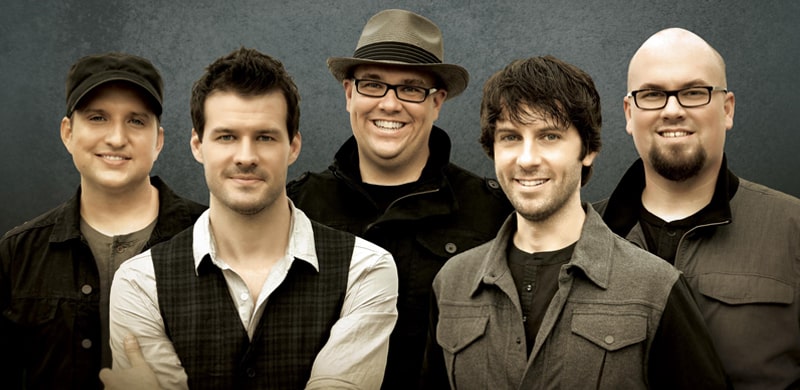 10 August 2017 – Nashville, Tenn. – Fervent Records artist Big Daddy Weave launches the Fall 2017 leg of their Set Free tour August 17th in Bossier City, LA. This fall's 50 city tour debuted in the spring of 2017 to an enthusiastic reception from concert goers. The tour follows the release of Big Daddy Weave's new single "Jesus I Believe." Guest artists include one of the fastest rising artists in Christian music, We Are Messengers, and breakout artist Micah Tyler.
Big Daddy Weave events have a reputation for going far beyond a concert experience. The members' heart for people is revealed in the transparent way they freely share their own challenges, including the serious illness and subsequent amputation of both feet of Big Daddy Weave member Jay Weaver last year. The group hopes to push that level of authenticity and interaction with the audience to an even deeper level on this tour.
"We are excited to head out again this fall, praying for a continuation of what God was doing this past Spring," comments Big Daddy Weave's Mike Weaver. "Darren Mulligan of We Are Messengers is like a brother to us, and together we have seen the Lord do tremendous things in the lives of so many individuals over the past year. We're also so glad to welcome Micah Tyler to the Set Free tour. I've been seeing the momentum surrounding this talented guy from Texas over the last few years and can't wait to see how he will be used in the bigger picture of the night."
We Are Messengers, coming off their first two singles reaching the top 5 of the Christian radio charts, is reaching new heights upon the release of their current single "Point To You." Coming to the U.S. from Ireland, frontman Darren Mulligan's reputation for directness and his love for people has exponentially increased the band's audience.
Micah Tyler's single, "Never Been A Moment," reached the #1 position on the Christian radio charts at the beginning of 2017. A popular worship leader, Micah's newest single "Different" is being played on Christian radio across the country.
The current tour dates are listed below with more being added. For the latest information, please visit bigdaddyweave.com/tour.
Aug 17 – First Bossier Church – Bossier City, LA
Aug 18 – Cottonwood Creek Church – Allen, TX
Aug 19 – American Bank Center Selena Auditorium – Corpus Christi, TX
Aug 20 – Boggus Ford Events Center – Pharr, TX
Aug 21 – Hyde Park Baptist Church – Austin, TX
Aug 23 – Crossroads – Odessa, TX
Aug 24 – Harvest Christian Center – El Paso, TX
Aug 25 – Tuscon Music Hall – Tucson, AZ
Aug 26 – Legacy Church – Albuquerque, NM
Aug 27 – Springs First Church – Colorado Springs, CO
Sep 07 – Cashman Center – Las Vegas, NV
Sep 08 – Arlington Theater – Santa Barbara, CA
Sep 09 – First Baptist Church – Merced, CA
Sep 10 – Trinity Life Center – Sacramento, CA
Sep 11 – Cascade Theatre – Redding, CA
Sep 13 – Bonita Valley Community Church – San Diego, CA
Sep 14 – Grand Canyon University Arena – Phoenix, AZ
Sep 15 – Valley Bible Fellowship – Bakersfield, CA
Sep 16 – Palmdale Amphitheatre – Palmdale, CA
Sep 17 – Azusa Pacific University Felix Event Center – Azusa, CA
Sep 28 – LifeBridge Chrisitan Church – Longmont, CO
Sep 29 – Casper Events Center – Casper, WY
Sep 30 – Christian Life Center – Layton, UT
Oct 01 – College Church of the Nazarene – Nampa, ID
Oct 02 – Christian Faith Center – Everett, WA
Oct 03 – East Hill Church – Gresham, OR
Oct 05 – Big Fresno Fair – Fresno, CA
Oct 06 – Cottonwood Creek Church – Allen, TX
Oct 07 – Sparks Christian Fellowship – Sparks, NV
Oct 08 – First Baptist Church of Eugene – Eugene, OR
Oct 19 – Living Faith Fellowship – Pullman, WA
Oct 20 – Helena Civic Center – Helena, MT
Oct 21 – Trinity High School Auditorium – Dickinson, SD
Oct 22 – Rushmore Plaza Civic Center – Rapid City, SD
Oct 24 – Aberdeen Recreation & Cultural Center – Aberdeen, SD
Oct 26 – Adler Theatre – Davenport, IA
Oct 27 – TBD – Eau Claire, WI
Oct 28 – Knoerle Center at SMWC– Terre Haute, IN
Oct 29 – Oakley Lindsay Center – Quincy, IL
ABOUT BIG DADDY WEAVE:
Big Daddy Weave is one of Christian music's most beloved artists. A mainstay at radio, the band has achieved five consecutive No. 1 singles, including "Love Come To Life," "Redeemed," "The Only Name (Yours Will Be)," "Overwhelmed" and "My Story." "Redeemed" became an anthem of unprecedented impact when it spent 11 weeks at No. 1, was dubbed "Song of the Year" at the first annual K-LOVE Fan Awards, earned Dove Award and Billboard Music Award nominations and was certified Gold by the RIAA. Since forming in 2002, Big Daddy Weave members Mike Weaver (lead vocals, guitar), Jay Weaver (bass, vocals), Jeremy Redmon (guitar, vocals), Joe Shirk (saxophone, keys, vocals) and Brian Beihl (drums) have released seven full-length projects, amassed more than one million units in album sales and have received numerous honors, including ASCAP and BMI Awards and the prestigious Rich Mullins Artist Impact Award, among others.
ABOUT WE ARE MESSENGERS:
Led by Darren Mulligan, We Are Messengers is a family, band and ministry originally hailing from Ireland and now based in the United States. We Are Messengers' self-titled debut garnered the collective its first Dove Award nomination for New Artist of the Year. The album's lead single, "Everything Comes Alive," became a Top 5 hit. The band's follow-up single, "Magnify," also reached Top 5 at radio with even greater airplay and sales. Mulligan's poignant songwriting can also be heard on Crowder's "My Victory," as well as selections placed in film and television such as "I Want You," which was chosen as the theme song for TV show "Coupled." Since the release of their debut in 2016, We Are Messengers has played to more than 600,000 people as a part of the Winter Jam Tour Spectacular, the largest annual tour in Christian music. This fall, the band will join Big Daddy Weave on their Set Free tour before embarking on the K-LOVE Christmas Tour alongside Steven Curtis Chapman and Hillary Scott & The Scott Family.
ABOUT MICAH TYLER:
Micah Tyler is a singer, songwriter and worship leader from Buna, Tex. signed to Fair Trade Services. Playing 200+ dates a year, Tyler has toured with MercyMe, Big Daddy Weave, Hawk Nelson, Phil Wickham, Stars Go Dim and more. Tyler's newest EP Different (Nov. 2016) includes the hit single "Never Been A Moment" which topped multiple radio charts, alongside "Directions" that appeared on the soundtrack for "God's Not Dead 2." Having served in staff ministry for over a decade, Tyler has a true love and respect for the local church. His newly-released, second single "Different" is also the title track from his upcoming album slated to drop in the Fall of 2017.
##