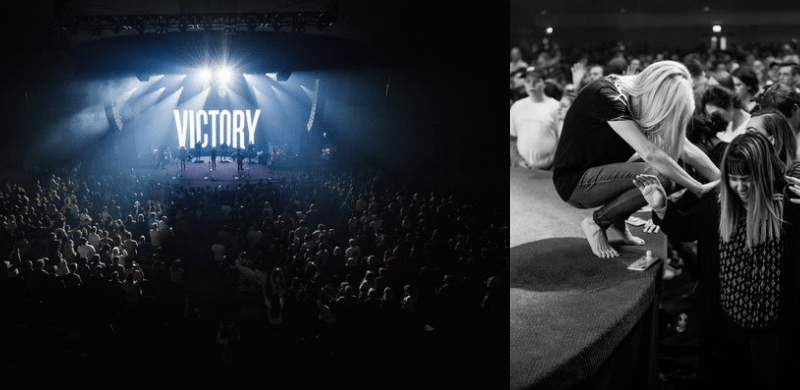 More Sold-Out Dates Unveiled As Collective Brings New VICTORY Album To 31 Markets
Nashville, Tenn. (Feb. 7, 2019) – Bethel Music's "Victory Tour" with Tasha Cobbs-Leonard and Housefires kicked off Monday with a sold-out night at Miami's The Fillmore. Multiple dates have followed suit, selling out in top markets including Birmingham, Houston and Dallas. The 31 date stretch finds the collective touring together for the first time in over a year while playing unique venues such as Los Angeles' Dolby Theatre, Denver's Buell Theater, Nashville's Grand Ole Opry, Chicago's The Chicago Theater and Brooklyn's King Theatre. The trek in many ways symbolizes a new season for Bethel Music as they perform new music found on the recently released VICTORY alongside introducing new faces like Brandon Lake.
Miracles, a raging wildfire and a joy-filled adoption; battles with anxiety, fear and health, Bethel Music's newest VICTORY debuted late last month. Known for anthems like "No Longer Slaves," "One Thing Remains" and more, the awaited collection reminds the listener that Bethel Music is a community of real people traversing life's challenges and triumphs, just like those on the other end of each song. VICTORY harkens back to the story of King Jehoshaphat and the unlikely victory won by sending worshipers to the front lines of battle – a testament that has been essential to the Bethel Music Family throughout the last 12 months.
Click here to experience Bethel Music's VICTORY. "VICTORY Tour" tickets are available at bethelmusic.com/victory-tour.
"VICTORY Tour" Routing:
* all dates subject to change
Mobile, AL – Feb. 7
Augusta, GA – Feb. 8
Knoxville, TN – Feb. 10 – SOLD OUT
Birmingham, AL – Feb. 11 – SOLD OUT
Houston, TX – Feb. 13 – SOLD OUT
Dallas, TX – Feb. 14 – SOLD OUT
Tulsa, OK – Feb. 15
Austin, TX – Feb. 16 – SOLD OUT
Kansas City, MO – Feb. 18
Vancouver, B.C. – Apr. 12
Spokane, WA – Apr. 14
Seattle, WA – Apr. 15
Portland, OR – Apr. 16
San Francisco, CA – Apr. 23
Vacaville, CA – Apr. 24
Los Angeles, CA – Apr. 25
San Diego, CA – Apr. 26
Phoeniz, AZ – Apr. 27
Albuquerque, NM – Apr. 29
Denver, CO – Apr. 30
Minneapolis, MN – Oct. 6
Chicago, IL – Oct. 7
Detroit, MI – Oct. 8
Nashville, TN – Oct. 10
Columbus, OH – Oct. 11
Brooklyn, NY – Oct. 12
Boston, MA – Oct. 13
Baltimore, MD – Oct. 15
Charlotte, NC – Oct. 16
##