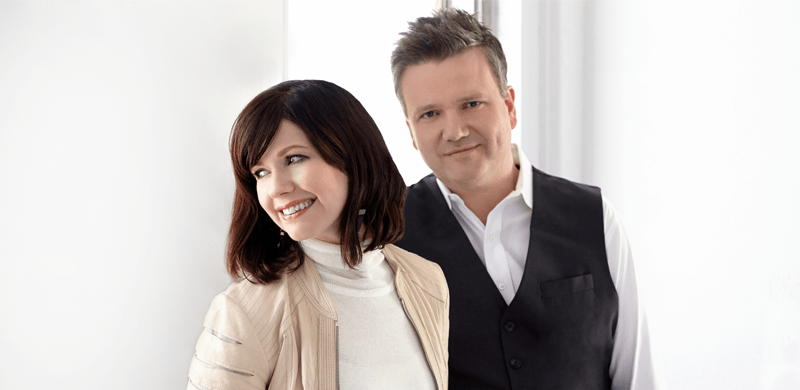 (photo by Kristin Barlow; courtesy Getty Music)
Award-Winning Nashville-Based Modern Hymn Writer Keith Getty Honored with "Officer of the Order of the British Empire" by Her Majesty the Queen
NASHVILLE, TN (June 16, 2017) – Nashville-based music artist Keith Getty was honored today as an "Officer of the Order of the British Empire" (OBE) by Her Majesty Queen Elizabeth II. The award, which commemorates Getty's contribution to "Music and Modern Hymn Writing," marks the first occasion that the award has been given to an individual involved in the world of contemporary church music.
Getty, along with collaborators including his wife, Kristyn, as well as Stuart Townend, has written over 60 of the most popular 2,000 hymns sung in the U.S. and United Kingdom, according to Christian Copyright Licensing International (CCLI). The Getty-Townend hymn, "In Christ Alone," is the #1 most popular hymn sung in the UK for the past nine years and is also among the top 10 in the USA. According to their publishers, it is estimated that over 100 million people sang this one hymn in the last 12 months. Getty-penned hymns are popular across all Christian denominations and their music has been performed at national celebrations in several countries as well as recorded by well-known artists.
Keith Getty says, "When I first received the call, I was shocked. As a Brit living in America it is an incredible gift to receive from home especially given the long history of the award and the legacy of individuals who have received it. It is also wonderful to see hymnody and the great hymn-writing heritage I am from in the U.K. be recognized in this way. I am very grateful to her Majesty the Queen for this honor."
Beyond just their work as hymn writers, Keith and Kristyn Getty have spent the last decade as ambassadors of the genre, leading a worldwide revival of congregational hymn singing.
Together with their band, the Gettys have performed at such notable venues as Carnegie Hall, The Kennedy Center in Washington, DC, and London's Royal Albert Hall. With performances for world leaders such as former US President George W. Bush and former South Korean President Lee Myung-bak, some 200,000 people have also seen their annual Irish Christmas concert, which was also aired on American public television to more than 45 million homes.
Getty continues, "I'm so grateful to my wife Kristyn and also profoundly thankful for Stuart Townend, whose hymn writing partnership gave us both this opportunity. It has been thrilling to see the impact of these hymns around the world. Kristyn and I feel utterly privileged to be able to serve the church in such a way and will continue to write and lead people in singing as we have breath to."
"Keith and Kristyn Getty are pioneers in the movement to produce a true yet new hymnody for the church that is theologically substantial, highly aware of history, continuous with church music of the past, contemporary yet meant to be enduring, and not just of the moment," said Timothy Keller, pastor emeritus at Redeemer Presbyterian Churches of New York City. "They stand in the gap between the older churches of Europe and the new, growing, global Christianity. Though they are still young adults, we already owe them a great deal."
On June 25, the Gettys will lead their second Global Hymn Sing (www.globalhymnsing.com). The Gettys' 2016 hymn sing resulted in more than 1.1 million congregants in 5400-plus churches in 100 countries around the world joining together in song.
Later this year, Keith and Kristyn launch their Sing! campaign with their first book, Sing! How Worship Transforms Your Life, Family, and Church, will be published internationally by B&H (Lifeway), and first Sing! conference in Nashville. (www.gettymusicworshipconference.com).
Keith and Kristyn met in Belfast, Northern Ireland when they began songwriting together. They were married in 2004, and two years later, they recorded their first project as a couple. They currently reside in Nashville along with their three young daughters.
For more information: http://www.gettymusic.com/
##