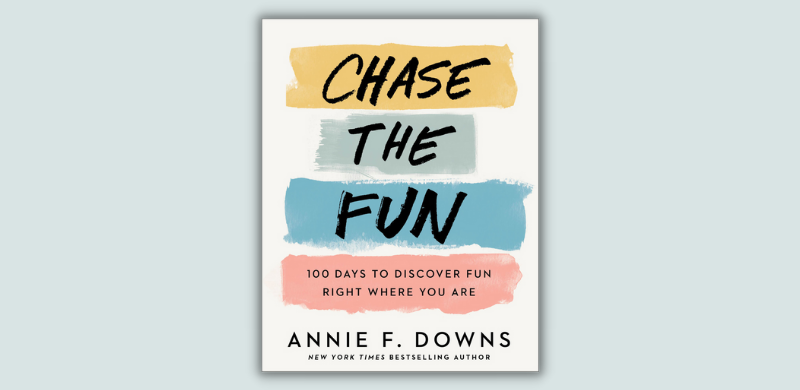 New York Times best-selling author and podcaster Annie F. Downs has helped readers understand why fun matters (That Sounds Fun), helped children and parents see that fun is everywhere, (What Sounds Fun to You?), and this August 2nd will help them Chase The Fun: 100 Days to Discover Fun Right Where You Are.
"As adults, it often seems like fun is something we had when we were kids, and we just don't have time for it now – am I right?," she asks. "Most of us barely have time for all the stuff we have to do, let alone the stuff we want to do. We can go days without actually having any fun at all, and that's no way to live!"
In this beautifully designed full-color book, Downs invites everyone to experience 100 delightful days of discovering fun right where they are. With her insightful writing and provocative questions, she helps readers identify what they find fun and then go after it like it matters, because it does.
Starting today, when fans preorder Chase the Fun here, they'll receive these FUN bonuses:
Early access to the audiobook (June 14, seven weeks before release!)
The exclusive opportunity to submit a question for the That Sounds Fun podcast's Fun Coaching Q&A Episode that releases on August 4.
Immediate access to the first seven days of Chase the Fun.
Downs also recently received her third K-LOVE Fan Award nomination for her podcast That Sounds Fun, following 2021's nomination for her book (also called) That Sounds Fun and 2016's nomination for Looking for Lovely. Fan voting is live through today via klovefanawards.com, and the show will air with back to back episodes at both 8pm and 10pm ET on June 3, 2022 on TBN.
##