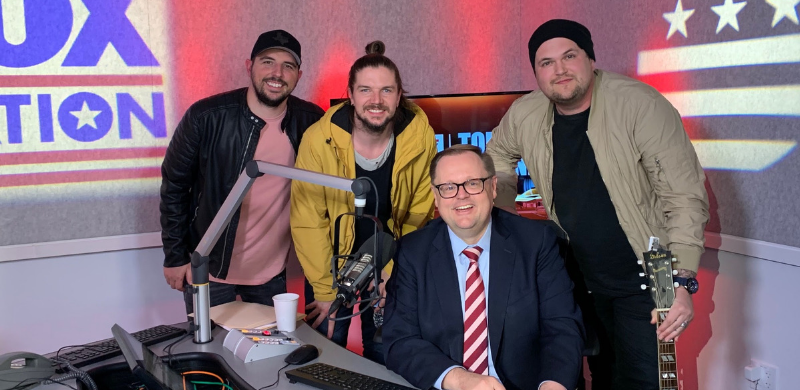 NASHVILLE, Tenn.—BEC recording artist and radio hitmakers 7eventh Time Down were recently featured on FOX News Radio's "The Todd Starnes Show." Broadcast live from FOX News headquarters in New York City, Starnes and the band discussed the group's history, as well as their latest recording, Brand New Day. In addition, 7eventh Time Down performed a special acoustic rendition of their latest single, "The 99," along with one of their signature hit songs, "God Is On The Move."
"What a great segment! Thanks for dropping by the studio, guys! We are 7eventh Time Down fans!" posted Starnes on Twitter.
"What an opportunity," said 7eventh Time Down's Cliff Williams. "It was awesome getting the chance to share our hearts and our music on 'The Todd Starnes Show.' Here's hoping something we said can turn someone toward God."
"The Todd Starnes Show" is nationally syndicated on FOX News Radio, airing weekdays 12 pm – 3 pm ET. In addition, Starnes hosts a daily commentary on FOX News Radio as well as "Starnes Country" on Fox Nation; serves as a columnist for FOXNews.com; and appears regularly on FOX News Channel. Also an author, Starnes' latest title is "The Deplorables' Guide to Making America Great Again."
7eventh Time Down and co-headliner Jason Gray will be launching "The Brand New Day Tour," along with special guest Cloverton, April 26 in Holland, Ohio. The tour will be traveling to seven cities, concluding May 11 in Marion, North Carolina.