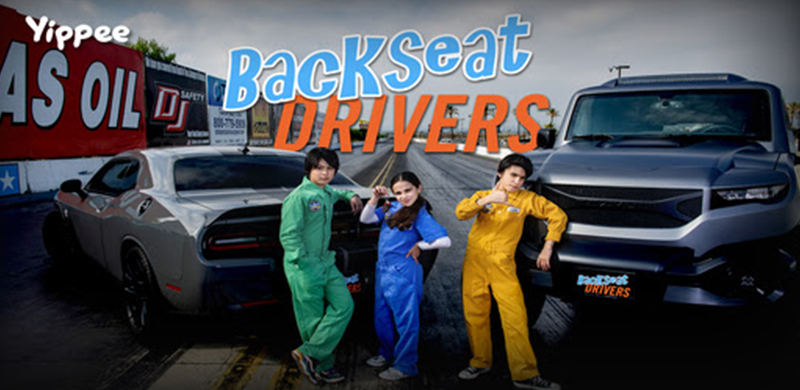 Network Boasts Large Catalog of Original and Curated Content with
"No Ads, No Algorithms, No Attitudes" Guarantee
Los Angeles, CA (May 6, 2020) –
Yippee TV
continues to break the mold when creating family-friendly content with their new series "Backseat Drivers." The first TV car show for kids, "Backseat Drivers" Season 1 launches with 10 episodes featuring hosts Cam (age 11), Jack (age 10), and Remy (age 11) learning about cars, facing fun challenges, and dreaming of the day they are old enough to be behind the wheel.
Show creators John Chuldenko and Adam Mellema set out to create an entertaining and innovative series that would cultivate an interest in cars while also stretching kid's imagination and excitement. The pair had worked together on several other projects and quickly became allies in their focus and passion to change the conversation about the quality of kid-centric content.
Chuldenko grew up as a car-obsessed kid just outside of Cleveland, and he lived for his annual pilgrimages to car shows with his father each summer. "'Backseat Drivers' is close to my heart because growing up, I would have been glued to a car-show targeted to me! I hope this show is a catalyst to launch a new generation of car-crazy kids!"
"'Backseat Drivers' creates a clubhouse where kids can meet and learn about cars in a fun, accessible format," Mellema continues. "We know kids will be entertained but it goes farther than that. We hope that the average kid can be exposed to the joys of car culture while also giving validation to those who already have an interest in cars. We hope that "Backseat Drivers" can be a bridge between innovative kid's content and traditional adult-focused car shows."
The first season consists of 10 episodes, featuring a trip to the acclaimed LA Auto Show, as well closed-course games and challenges, including delivering pizzas from an Alfa Romeo being driven by Stuntdriver Sarah, attempting to parallel park better than the auto-park mode of a Tesla Model X, and testing if a Rezvani Tank really is kid-proof.
Cars provided by the manufacturers and featured on "Backseat Drivers" include the Alfa Romeo Giulia Quadrifoglio; Acura RDX; Porsche Cayenne; Volvo S60; two microcars, a Messerschmitt and Peel Trident, provided by Galpin Motors; and a Rezvani Tank.
Launched in December 2019, Yippee is a streaming service and destination for families curated with safe, engaging entertainment for children aged 2-10. "At Yippee, there are no ads, algorithms, or attitudes," says Brandon Piety, Head of Yippee. "We're very excited to release 'Backseat Drivers,' which breaks new ground with its innovative approach to kids and cars, as one of our first Yippee Originals."
##