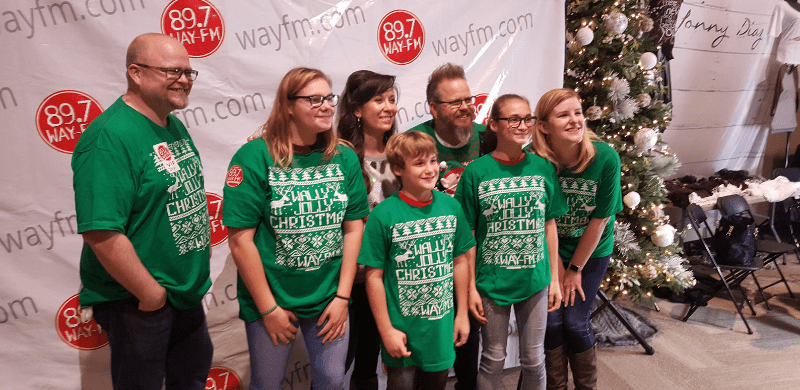 (Dallas / Ft Worth, TX) – The Wally Jolly Christmas Show came to Dallas/Fort Worth at Cottonwood Creek Church in Allen, Texas on Friday, November 30th. Beginning as a seasonal spectacle in several WAY-FM markets in 2014, The Wally Jolly Christmas Show was reimagined for 2018 with new skits and games from Wally and his morning co-hosts Bekah, Zach, and Betty Rock. Joining the evening were musical guests Jonny Diaz and Northpoint Inside Out. The church's artist-in-residence, Bridgette Hammers, opened the near-capacity night.
Wally commented, "Wally Jolly is a live show that combines the fun of Christmas without forgetting the seriousness of the season. We love meeting the people who enable us to do what we do every day. Wally Jolly is a blast because it is like inviting people into our living room on Christmas Eve, to sing, decorate, exchange presents and celebrate with our dysfunctional family."
WAY-FM Dallas/Fort Worth General Manager Tim Dukes noted, "It's always edifying to bring our air staff to the market so they can interact with listeners in person. To create an event where that can happen on a larger scale like "Wally Jolly" makes it a big win for all involved. "
"To the stage the crowd was responsive and leaning in. When one-on-one, the families, to a person, felt a strong, personnel connection with Wally and the gang. To see the connection in action is compelling. It was a family event and the age span and mix was dynamic! It is clear that the new 89.7 WAY-FM DFW audience is engaged with the WAY-FM brand of uplifting, upbeat and real.", noted President/CEO John Scaggs.
##