U.S. Music Groups Unveil Groundbreaking "50 States Of Music" Website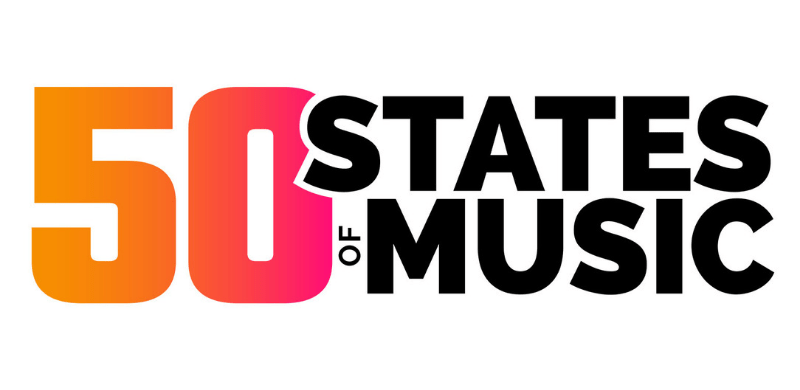 New interactive website highlights music industry's massive
$143 BILLION value to American economy, including jobs supported,
notable musicians, songwriters in each state and more
Record label, songwriter groups to initiate social media campaign
promoting the site, #50StatesOfMusic
WASHINGTON, DC – Today the American Association of Independent Music (A2IM), ASCAP, BMI, the Recording Industry Association of America (RIAA), and SoundExchange unveiled a brand new interactive website called 50 States of Music that for the first time aggregates various data points from throughout the industry to fully illustrate the powerful economic and cultural impact of the U.S. music industry throughout the country.
One of the site's primary features is new data by Stephen Siwek of Economists Incorporated that shows that the U.S. music industry contributes more than $143 billion in annual value to the country's economy, including the support of nearly 2 million jobs for American workers. Siwek's data is further broken down into state-by-state economic analyses that show the number of workers employed in music-related businesses in each state.
Other datapoints on the site include the number of music businesses, the number of royalty recipients (musicians), and the number of songwriters in each state. Users can click on state-specific pages to find a sampling of notable local highlights, including prominent musicians from that state, hometown music festivals, music schools, and music conferences listed on the page.
Several sponsor organizations will be initiating their own grassroots and social media campaign to help promote the site, titled #50StatesOfMusic, with graphics and key call-outs.
"Music is a uniting force – a beloved cultural asset that speaks to each and every one of us in our lives," said Mitch Glazier, Chairman and CEO, RIAA. "We know this, but what is less known is the enormous economic value music provides in hometowns throughout the USA – from the local music store and concert venue to the music festival and hard-working songwriters and musicians in each and every state. Music is America, and America is music. This new site finally paints a proper picture of the U.S. music industry as one that is truly local, growing, and more important than ever. We hope that the entire music business, fans, and policymakers find this a useful resource as we continue our work toward a bright future for U.S. music."
"Everybody loves music and the influence of American music is in evidence almost anywhere we go in the world," said Richard Burgess, President and CEO, A2IM. "So much so that it has been an unofficial cultural ambassador for this country since the invention of the phonograph. Despite the ubiquitous of our music, it is not common knowledge how much creators, labels, and other music industry players contribute to the U.S. and our individual State economies. Finally, we have a site that gathers this information together in a fun and easily digestible way."
"Songwriters are the lifeblood of the music industry; small businesses who operate in every state across the country making great music and driving American culture," said Elizabeth Matthews, CEO, ASCAP. "ASCAP is happy to be a part of this new site that shines a light on the importance of music throughout the USA – from the smallest town to the biggest city — and notes the iconic contributions of songwriters."
"The power of music is undeniable, both from a cultural and economic standpoint," said Mike O'Neill, President & CEO, BMI. "Many talented people across the nation are essential to the American music industry, and of course, it all starts with the songwriters and composers who provide the foundation for our business. Bringing this picture to life is the 50 States of Music site, an incredible new resource that highlights music's cultural and economic impact across the U.S., state by state. BMI is proud to partner with the RIAA and other music organizations on this important project that showcases all that goes into the success of the American music industry."
"50 States of Music captures the tremendous positive economic impact of our industry – one that extends far beyond music's creators and is enjoyed by hundreds of thousands of professionals in communities across the country," said Michael Huppe, President and CEO, SoundExchange. "We are proud to support these creators by providing them with the accurate and timely revenue needed to advance their work."