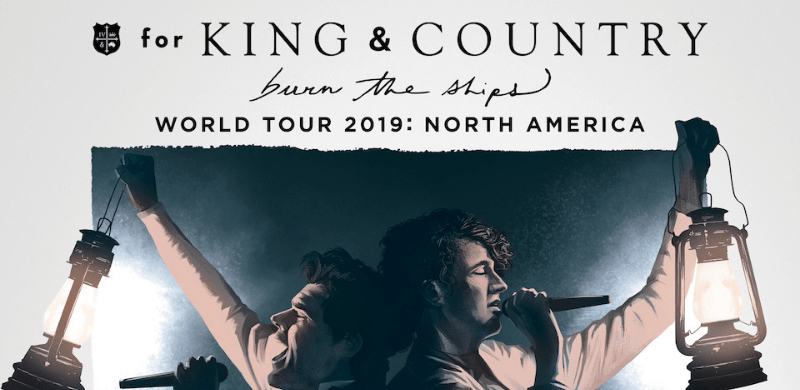 (Nashville, TN) – Two-time GRAMMY® award winning duo for KING & COUNTRY is heading back out on the road, as the 2019 Billboard Music Award nominees just announced the burn the ships | world tour: North America. The extensive run will see for KING & COUNTRY bring the bow of the proverbial "ship" to life with a thrilling new stage and lighting setup, and will hit arenas in major markets including Nashville, TN; Chicago, IL; Atlanta, GA; San Diego, CA; and British Columbia with more to follow. The artist exclusive pre-sale opens today and fans can access tickets by entering the code SHIPS at the link provided HERE. General public on-sale date is May 3rd at 10:00am local time.
Joel and Luke Smallbone share their excitement, "For the first time since we started the band, we're going to be able to share the music and the heart behind it in the most inspirational and theatrical way we've been able to date. We cannot wait to embark on this voyage with you!"
The Smallbones have enjoyed great success stemming from the release of their third studio album burn the ships. for KING & COUNTRY secured their fourth and fifth career No. 1 hits with the massively successful "joy." and "God Only Knows," with the latter marking the group's fastest rise to No. 1 to date. They have sold out 22 shows on their burn the ships | world tour thus far, including the famed Sydney Opera House in their homeland of Australia, and are currently nominated for three 2019 Billboard Music Awards. The upcoming North American tour will see for KING & COUNTRY perform at the top of the show, giving fans more music to sing along to than ever before – including every song from the burn the ships album. For more information including all tour dates, go to www.forkingandcountry.com.