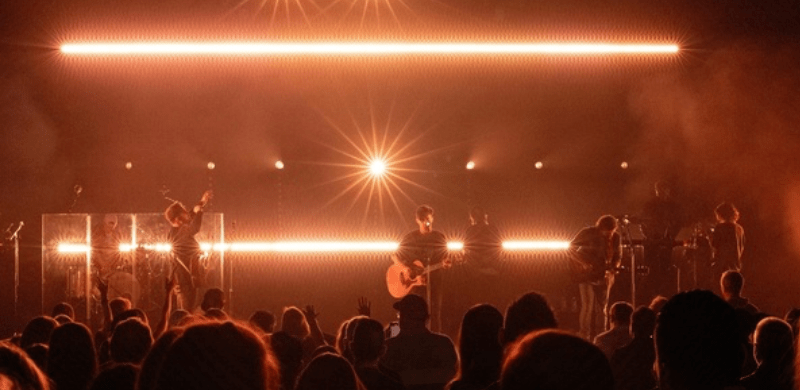 Leading Christian concert promoter Transparent Productions closes out another tremendous year of growth, partnership and ministry. The company helmed 300+ shows throughout 2022. Additionally, they increased their personnel, which now includes a staff of more than 30 professionals who are passionate about sharing the message of the Gospel through live events.
"I'm incredibly proud of our growing team and the countless hours they've given to making this year a tremendous success," shares Transparent Productions President Jared Gibo. "We're so thankful to be partners in ministry with these truly gifted artists, speakers and writers."
Over the past 12 months, Transparent supported concerts and events headlined by a variety of faith-based artists, authors and speakers.
Award-winning singer/songwriter Phil Wickham sold out 27 of his 32 dates this year in advance of his massively successful "Hymn of Heaven Tour," which featured Josh Baldwin, among other guests. Wickahm also recently brought his "BEHOLD Christmas Nights" to select cities across the country, Wickham's holiday show at the Honda Center in Anaheim, California, marked the largest and highest-grossing event of his career with more than 11,000 people in attendance. The milestone evening also included Anne Wilson and Brandon Lake.
This fall, Transparent was privileged to be the touring partner for CeCe Winans as the Gospel legend embarked on her first tour in more than 10 years. Fans were clearly eager to hear her incomparable voice in-person, selling out 16 of 20 total dates. "We were honored this year that CeCe Winans would trust us with her first real tour in more than a decade. She is an amazing talent and minister. The crowds were beyond excited to come out and worship with her," says Transparent Productions CEO Tim Taber. "It was a really special tour to be able to produce, and we're looking forward to the second leg in Spring 2023."
Additionally, GRAMMY® and multi-Dove Award winner Brandon Lake spent the fall on the "Miracle Nights Tour" — the first headlining run of his career — alongside special guests Blessing Offor and Joshua Silverberg, selling out every date on the 13-city trek weeks in advance.
Danny Gokey kicked off a busy fall season with "The Jesus People Tour." The 24-city jaunt resulted in six sold-out concerts and featured Jordan Feliz and Tasha Layton.
GRAMMY® nominee Anne Wilson headlined her first tour in support of her smash debut, My Jesus, selling out multiple venues in advance.
Transparent was honored to help celebrate the life of former Big Daddy Weave founding member Jay Weaver as the group returned to the road in January. The beloved band took their biggest hits to 48 cities across the country.
Acclaimed author and speaker Lysa TerKeurst encouraged women across the country with the "Encounter Tour" in March and May. In November, she released Good Boundaries and Goodbyes, before launching another nine-city outing focused on the themes she explores in her latest book.
New York Times bestselling author, speaker and podcast host Annie F. Downs reprised her popular "That Sounds Fun Podcast Tour" in February and March with stops in Maryland, South Carolina, Colorado, Oregon and California.
Transparent was proud to partner with Bryan and Katie Torwalt for their new live album recording in Costa Mesa, California, where the company is headquartered. Throughout May, the worship duo completed a tour with Benjamin William Hastings that visited a dozen cities up and down the West Coast and into Texas.
Meanwhile, Casting Crowns celebrated two of the biggest shows of their fall leg of "The Healer Tour" in partnership with Transparent playing to huge crowds at Grand Canyon University Arena in Phoenix, Arizona, and the Honda Center in Anaheim, California, with CAIN and Wilson adding support.
This summer, SoCal's largest one day Christian festival, Fishfest, celebrated 20 years of music and ministry with Jeremy Camp headlining the festival for the first time.