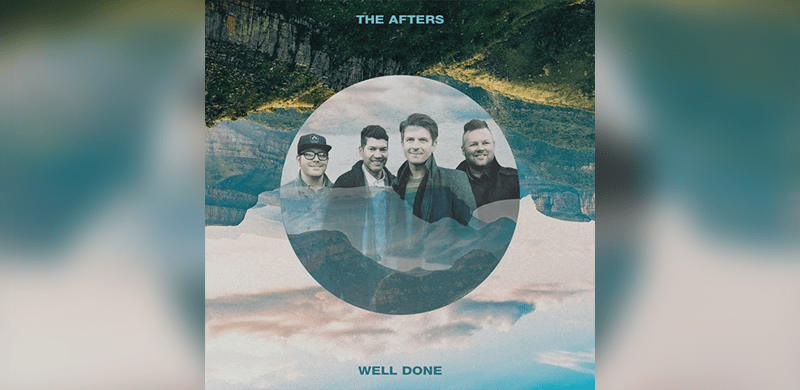 Best Of Album, The Beginning and Everything After,
To Release Nov. 2
Nashville, Tenn. (Aug. 31, 2018) – "Well Done," a song that points to the hope of Heaven and a life well lived, is the newest single from The Afters. The track will hit radio airwaves on Sept. 14, following The Afters' upcoming performance at the notable Christian Music Broadcasters (CMB) Momentum Conference. It released to all digital outlets on Friday with features in key playlists, including Spotify's New Music Friday and Top Christian, as well as Amazon Music's Fresh Christian playlist. "Well Done" heralds a brand new collection of music expected to release in spring 2019.
The song, already cultivating stories of hope and encouragement among fans, was years in the making as front man Josh Havens' shares, "I lost my dad to cancer about fourteen years ago and there's been a void in our family ever since. This past year, it especially hit home when two of my sisters got married. I just thought the whole time about how my dad would've loved to be there. As I looked around, I realized that my dad loved Jesus, and because of that he showed his family what it means to live a life in pursuit of Jesus. Because of his impact, my siblings and I all love Jesus. I can't image a better legacy to leave behind. Someday – when this life is over – we're going to leave behind all the pains of this world, all the suffering, all the heartache and we're going to go before our creator. When we see Jesus face to face, we can look forward to hearing those words, 'well done, my good and faithful servant.' I hope this song is a comfort for anyone who has lost someone they love and is a reminder of how important this life is. ''
As The Afters' prepare a new collection of music, the band is pausing to reflect on a memorable past with the Nov. 2 release of The Beginning and Everything After. The 12 track best of project celebrates the triumphs, including chart-topping albums and singles, TV placements and theme songs, an MTVU Award, GMA Dove Awards and other accolades. This new mix of hits and favorites allows the band's compelling pop hooks and inspirational anthems to take on new life, alongside 2 brand new songs that point to a future of exciting new music to come. The new tracks include "Fear No More" and the single "Well Done."
To listen to "Well Done," click here. For tour dates and more information of The Afters', stay tuned to www.TheAfters.com.
The Beginning and Everything After Track Listing:
Battles
Light Up the Sky
Lift Me Up
Broken Hallelujah
Beautiful Love
Never Going Back to OK
Moments Like This
Every Good Thing
Live On Forever
Wait
*Fear No More (new)
*Well Done (new)
About The Afters
Texas-based, four-piece band The Afters were propelled into the national spotlight with their INO/Sony Music Label Group debut I Wish We All Could Win. The project spawned the swirling, melodic hit "Beautiful Love," earning the band an enthusiastic following when the song was selected as the theme track for MTV's "8th and Ocean." "Beautiful Love" was also the most downloaded track of 2006 on the iTunes ® Inspirational charts and garnered the band an mtvU award. The Afters' sophomore release Never Going Back To OK (INO/Columbia Records) debuted in the Top 50 on the Billboard Top 200, and proved to be a sensation on the silver screen with "Grey's Anatomy" (ABC), "Dr. Phil," "Army Wives" (Lifetime) and "Rachael Ray." The band's third record Light Up the Sky bolstered two No. 1 radio hits, as well as placements on "The Biggest Loser" (NBC) and "You Deserve It" (ABC). A slew of media including Rolling Stone, Seventeen.com, E! News Live, TV Guide, Premiere Radio and more also picked up on covering The Afters. Life Is Beautiful, the band's 4th studio release, acquired placements on top tv shows like "American Idol" (ABC), "The Biggest Loser" (NBC), "America's Got Talent" (NBC) and "Dancing With The Stars" (ABC) for their song "Moments Like This." They also had a no. 1 hit at radio with their song "Every Good Thing." Their fifth studio album, Live On Forever, released in Sept. 2016. New music is expected from the band in spring 2019.
##