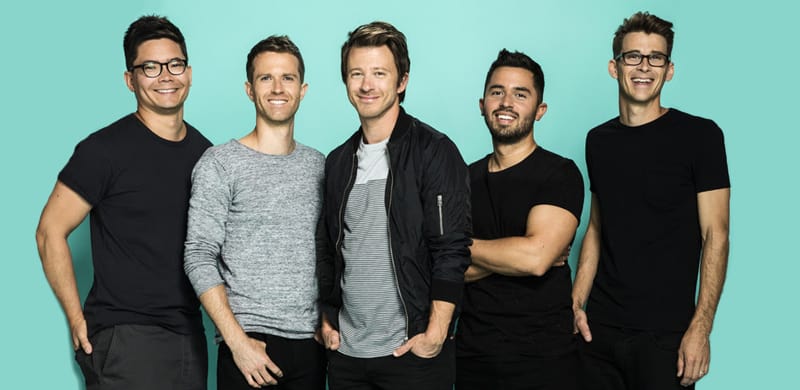 NASHVILLE, Tenn. – Oct. 5, 2017 – Multiple Dove Award winning band Tenth Avenue North has partnered with Compassion International to present the "Decade The Halls" Tour this Christmas season, with special guests Zach Williams and Meredith Andrews. A holiday treat that brings a whole new meaning to the timelessness of Christmas, the "Decade The Halls" Tour will feature both traditional Christmas favorites and original Christmas songs, each set stylistically in a different decade. Highlighting songs from their upcoming Christmas album, Decade The Halls, Tenth Avenue North will engage audiences with new arrangements that reminisce favorite Christmas tunes while honoring decades like the '20s, '30s and '40s, up to the present.
"It's a Christmas record and a tour where we basically play songs through the musical genres of the decades," Tenth Avenue North frontman Mike Donehey says of the idea the band has had for a few years now. "The concert is going to be out of control! There are going to be costume changes, there will be dancing, there will be lights, there will be props, there will be carol singing… it's going to be magic!"
In addition to many memorable Christmas moments, the "Decade The Halls" Tour will also highlight other hit songs by Tenth Avenue North, as well as favorites by Grammy nominee Zach Williams and popular worship artist Meredith Andrews. Kicking off Dec. 7, in Lansing, Mich., the tour is slated to hit 9 U.S. markets before wrapping up in Ocala, Fla., on Dec. 17. Tickets will be on sale this week in most markets. A special VIP ticket is available which includes a pre-show artist meet & greet with photo op, milk and cookies with the band, and a signed Tenth Avenue North Christmas card. For details and ticket links, visit www.tenthavenuenorth.com/tour.
DECADE THE HALLS TOUR – 2017
* Dates and venues subject to change without notice.
Dec 7 – Lansing, MI – Mount Hope Church
Dec 8 – Clarkston, MI – Mt. Zion
Dec 9 –Cadillac, MI – Resurrection Life Church
Dec 10 – Willoughby Hills, OH – Willoughby Hills Friends Church
Dec 13 – LaGrange, GA – Faith Baptist Church
Dec 14 – Largo, FL – First Baptist Church of Indian Rocks
Dec 15 – Boca Raton, FL – Spanish River Church
Dec 16 – Cape Coral, FL – First Baptist Church of Cape Coral
Dec 17 – Ocala, FL – First Baptist Church
For ticket information and the most up-to-date list of concerts, please visit www.tenthavenuenorth.com/tour.
ABOUT TENTH AVENUE NORTH
Tenth Avenue North made their national debut in 2008 with their first RIAA gold certification album Over and Underneath, which spawned the hits "Love is Here," "By Your Side" and "Hold My Heart." Tenth Avenue North won the Gospel Music Association Dove Award in 2009 for New Artist of the Year and in 2010 "By Your Side" was named Song of the Year. The band gained further momentum with 2010's The Light Meets the Dark and The Struggle in 2012, which continued to populate radio and the church with such memorable songs as "Healing Begins," "You Are More," "Losing" and "Worn." In November 2014, the band released their fourth studio project, Cathedrals, with the first radio single "No Man Is An Island." Their most recent project, Followers, produced the No. 1 song at CHR radio, "What You Want," and the Top 5 radio hit "I Have This Hope."
Connect with Tenth Avenue North:
Website: www.TenthAvenueNorth.com
Twitter
Facebook
Instagram
YouTube
ABOUT ZACH WILLIAMS
As a husband, father, singer, recording artist, songwriter and worship leader, Zach Williams is already making history. Achieving two consecutive radio No. 1 hits as a debut artist ("Chain Breaker," "Old Church Choir") Williams' music comes from a place of humility and honesty as his songs are a direct reflection of God's redemption in his life. "Chain Breaker" has already impacted millions of people around the world and even earned him his first GRAMMY® nomination (Best Contemporary Christian Music Performance/Song), a Billboard Music Award nomination (Top Christian Song) and a K-LOVE Fan Award (Breakout Single). Apple Music chose Williams as Artist of the Week in December 2016, while "Chain Breaker" was the top track of 2016 on iTunes' Christian Songs chart and also reached No. 12 on Billboard's Hot Rock Songs chart. Williams has already toured with Chris Tomlin, Rend Collective, Big Daddy Weave and many more.
Connect with Zach Williams:
Website: www.ZachWilliamsmusic.com
Twitter
Facebook
Instagram
YouTube

ABOUT MEREDITH ANDREWS
Word Worship recording artist Meredith Andrews is passionate about writing and leading songs that keep people's hearts and minds set on Jesus. Over the course of her three Word Worship albums, the Dove Award-winning artist has been using her musical gifts, love for God, and her huge heart for His people – to teach and remind us all about the enormity of our awesome and loving Savior. Andrews focuses on creating music that lifts the body of Christ to a closer relationship with the Lord. On a regular basis, Andrews leads worship at major women's and worship leader conferences across the U.S., and has toured with Matt Maher, Natalie Grant, Big Daddy Weave, Vertical Church, Phil Wickham, and Michael W. Smith, among others. Andrews is married to Jacob and has three children: Maverick, Remy and Frankie.
Connect with Meredith Andrews:
Website: www.MeredithAndrews.com
Twitter
Facebook
Instagram
YouTube

ABOUT COMPASSION INTERNATIONAL
Compassion International is a Christian child development organization that works to release children from poverty in Jesus' name. Compassion revolutionized the fight against global poverty by working exclusively with the Church to lift children out of spiritual, economic, social and physical poverty. Compassion partners with more than 7,000 churches in 26 countries to deliver its holistic child development program to over 1.9 million babies, children and young adults. It is the only child sponsorship program to be validated through independent, empirical research.
Connect with Compassion International:
Website: www.compassion.com
Twitter
Facebook
Instagram

##