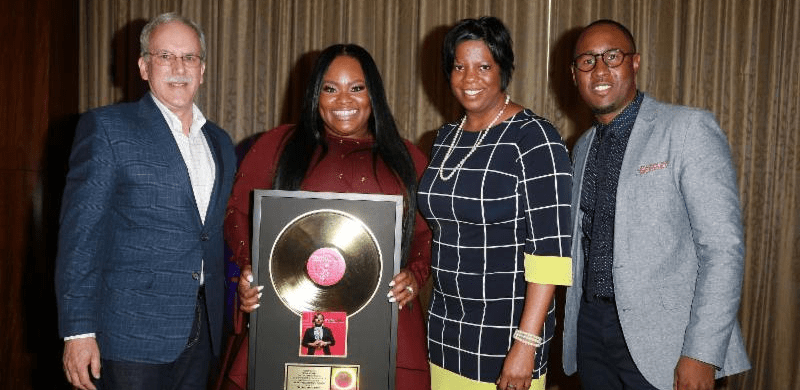 Pictured L-R: Ken Pennell, President of Gospel Music for Capitol Christian Music Group; Tasha Cobbs; Monica Coates, Vice President of A&R for Motown Gospel; EJ Gaines, Vice President of Marketing for Motown Gospel
World-Renowned Worship Artist Readies New Music for Upcoming Release – Heart. Passion. Pursuit.
Nashville, TN, March 28, 2107 – Motown Gospel is celebrating the gold certification of "Break Every Chain," the ground-breaking single by world-renowned worship artist Tasha Cobbs. The award was granted by the Recording Industry Association of America (RIAA) to commemorate sales of more than 500,000 units.
Cobbs received a gold plaque Saturday in Las Vegas during a surprise presentation by Ken Pennell, President of Gospel Music for Capitol Christian Music Group. "With the changing climate of the music industry it's rare that we have the opportunity for moments like this in gospel," Pennell said. Speaking before a crowd of artists, songwriters, and industry executives at the Motown Gospel-ASCAP Morning Glory Breakfast, Pennell elaborated, "While many in our marketplace are still hesitant to embrace streaming, Tasha's growing streaming presence enabled us to carry her music to audiences around the world and to cross this important threshold."
Named by Billboard Magazine as the Most Streamed Gospel Artist and Top Female Gospel Artist of 2016, Cobbs is currently at work on new music for her upcoming project Heart. Passion. Pursuit. The highly anticipated follow-up to her chart-topping 2015 release One Place Live features songs of praise and worship written by Cobbs and in collaboration with other celebrated worship artists, including Matt Redman, Jonas Myrin, and Brenton Brown. The project is slated for release by Motown Gospel later this year.
The certification capped off a weekend of events for Cobbs in connection with the 32nd Annual Stellar Gospel Music Awards. Cobbs performed twice during the program—once with VaShawn Mitchell ("Jesus Reigns") and again with Kirk Franklin ("My World Needs You"). Hosted by Erica Campbell and Anthony Brown, the telecast will premiere on TV One, on Palm Sunday, April 9 at 6pm ET with encores at 8pm and 11pm ET. Additionally, the Stellar Awards will air in national broadcast syndication April 15-May 7, 2017
##