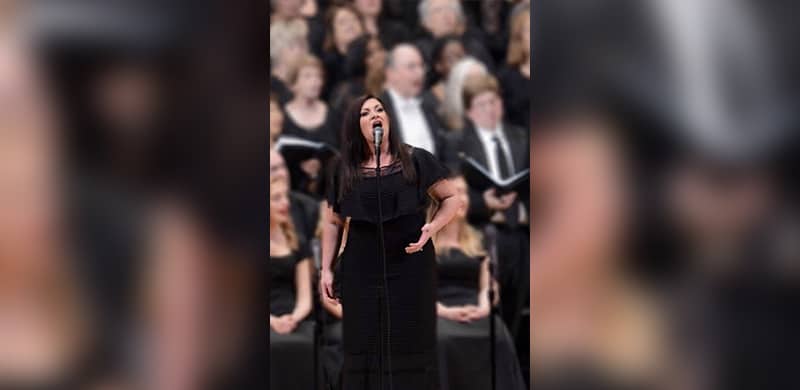 Nashville, TN (Nov. 30, 2017) – StowTown artist TaRanda Greene has a lot to be thankful for this Christmas season. Within two weeks, TaRanda celebrated 20 years as a performing artist, performed at Carnegie Hall and had a whirlwind trip to Sweden to kick off her 2017 Christmas Tour.
"It's been a winding road that led to year 20," TaRanda reflects. "But through i­t­ all, there's no place I'd rather be today than where I am, singing lyrics that mean so much to me, singing them from my heart and sharing the love of Jesus with everyone I have the opportunity to meet. Thank God for Jesus. Thank God I get to do what I love. I'm so grateful."
Year 20 started with a standing ovation at Carnegie Hall. TaRanda performed alongside singing group Point of Grace, fellow StowTown artist Charles Billingsley and a 300-voice choir at the 7th Annual Christmas in New York concert on Nov. 20. For TaRanda, it was a dream come true. "When studying classical voice as a teenager, it­ was always a dream to "practice, practice, practice …" in order to get to Carnegie Hall. I­t­ was a bucket list for me since I was 14 years old." Greene continued, "How amazing is God that not only did I get to sing on that revered stage, but I got to sing the gospel story!! Now THAT'S a dream that came true. I'm so honored to have been there."
Event host and conductor, Phil Barfoot, commented on how TaRanda's performance enhanced the incredible night of worship and celebration. "This was TaRanda's first concert with us. She rocked the house with her powerful voice and energetic personality and drew the audience right into the presence of God!"
This event is being commemorated by an exclusive giveaway through Singing News Radio, a division of Salem Media Group. In celebration of this performance, Singing News Radio and StowTown Records are giving away a special prize pack which includes an autographed Playbill, along with copies of both TaRanda's and Charles' Christmas CDs. For more information, visit www.singingnewsradio.com.
After celebrating Thanksgiving, TaRanda set out for Sweden where she celebrated Christmas with friends in Jönköping and Götenburg. She was backed by a 200-voice choir, the Sjung Gospel Choir, and they performed three sold-out programs in those two days. While the trip was quick, the memories linger. "I've grown to love the people in Sweden. There's an unassuming grace they carry, and they are so warm and kind. And my goodness, they SING! What a great way to start off my Christmas concerts this year. Carnegie Hall, Sweden, Lynchburg, Brooklyn – sounds like Christmas to me!"
TaRanda's current project, Stronger, and her Christmas project, Spirit of Christmas, are both available at retail and digital outlets worldwide and are distributed by Sony/Provident Distribution. You can follow TaRanda on Instagram, Twitter and Facebook as well as online at www.tarandamusic.com.
##