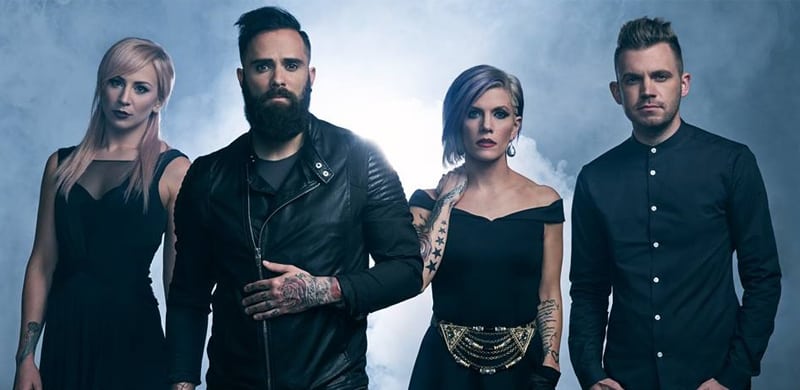 New Deluxe Edition Features 5 Unreleased Songs and Remixes of "Feel Invincible," "The Resistance" and "Stars"
Now Available For Pre-Order On Skillet's Webstore
Currently Headlining The Air1 Positive Hits Tour
New York, NY (October 10, 2017) – Building on the success of their critically acclaimed and commercially successful release Unleashed, Skillet will release Unleashed Beyond, a deluxe version of their acclaimed 2016 release, on November 17. Unleashed Beyond boasts eight bonus tracks; five brand new unreleased songs, including "Breaking Free (feat. Lacey Sturm)," 2 remixes and the film version of "Stars" as featured in the motion picture The Shack, which hit No. 1 on Christian Hot AC this spring. Also included in the mix is Skillet's current Christian radio chart-topper "Lions," which is currently No. 1 for the sixth straight week on Hot AC. The deluxe edition is currently available for pre-order on all Skillet tour stops as well as via their webstore at: www.skillet.com/store.
The tracklisting for Unleashed Beyond is:
* previously unreleased
1. Feel Invincible
2. Back From The Dead
3. Stars
4. I Want To Live
5. Undefeated
6. Famous
7. Lions
8. Out Of Hell
9. Burn It Down
10. Watching For Comets
11. Saviors Of The World
12. The Resistance
13. Breaking Free feat. Lacey Sturm *
14. Stay Til The Daylight *
15. Brave *
16. You Get Me High *
17. Set It Off *
18. Feel Invincible (Y2K Remix)
19. The Resistance (SOLI REMIX)
20. Stars (The Shack Version)
Any fan who pre-orders Unleashed Beyond will receive an instant download of the unreleased Feel Invincible Remix EP, which is comprised of 5 vastly different re-imaginations of Skillet's #1 single. The remix EP will also be available for purchase via all digital retailers starting on November 17th. The tracklisting for the Feel Invincible Remix EP is:
1. Feel Invincible (KELLR Remix)
2. Feel Invincible (Doug Weier Remix)
3. Feel Invincible (81Neutronz Remix)
4. Feel Invincible (blastforever Remix)
5. Feel Invincible (Noise Reduction Remix)
Skillet has cemented its place as one of the 21st century's most successful rock bands. Selling more than 12 million units worldwide, the Wisconsin quartet have received two GRAMMY® Award nominations and won a Billboard Music Award for the platinum-certified Awake. Their double-platinum single "Monster" is "the eighth most-streamed rock song of 2015" and currently has over 106 million plays (and counting) on Spotify and 208+ million YouTube views, earning the distinction of becoming "the best-selling digital single in the history of Christian Music." 2013's Rise bowed at #4 on the Billboard Top 200 upon release and received resounding and eclectic acclaim from the likes of USA Today, New York Times, Revolver, Loudwire, and more. Their latest album, Unleashed debuted at #3 on the Billboard 200 while topping the Christian chart alongside their current double GMA Dove Award nominated track "Feel Invincible" which flew to #1 on both the Mainstream & Christian Rock Radio charts. Skillet was nominated for 3 more Billboard Music Awards in 2017 and their songs have been used by the WWE, Marvel, ESPN and the NFL to name a few.
Skillet is currently touring in support of Unleashed on the Air1 Positive Hits Tour. Information for tickets on all upcoming shows can be found at: http://www.skillet.com/tour.
Get Connected With Skillet:
Website: www.skillet.com
Facebook: https://www.facebook.com/skillet/
Twitter & Instagram: @skilletmusic
##