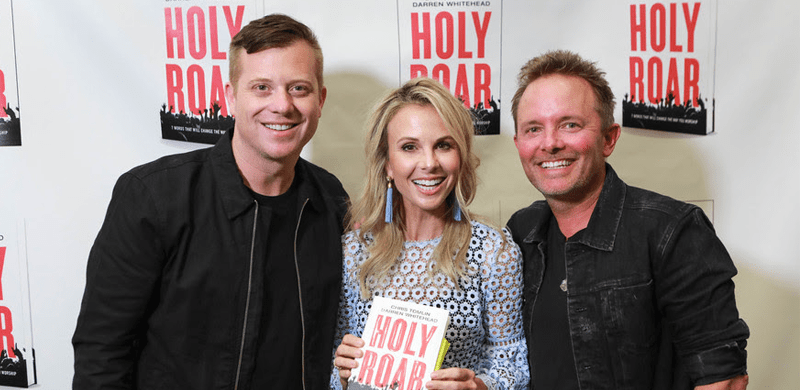 Pictured: Elisabeth Hasselbeck hosts a book release celebration with Tomlin and Whitehead at Nashville's Church of the City (Photo credit: John Sherlock)
"Brilliant"
"Insightful,"
"Profound"
"Illuminating"
GRAMMY® Winner Chris Tomlin and Pastor Darren Whitehead's HOLY ROAR 7 Words That Will Change the Way You Worship Receives High Regard from Leading Pastors and Worship Leaders
Available Today, Elisabeth Hasselbeck Hosts Book Release Celebration
Nashville, Tenn. – (October 10, 2017) – Available today, high regard for GRAMMY® winner and worship leader Chris Tomlin and Pastor Darren Whitehead's HOLY ROAR, 7 Words that will Change the Way You Worship is flowing in from leading pastors and worship leaders across the globe:
---
"I loved reading this brilliant book. Darren and Chris take us deep into the meaning of the ancient word for "praise" and along the way they illuminate, inform and inspire us. Read it—it's time to join the Holy Roar!" —Matt Redman, Award winning Worship Leader & Songwriter
"Chris and Darren have written an inspiring, insightful and practical book on worship. They unpack key biblical terms and, in doing so, unlock spiritual truths. Their teaching will activate within you a desire to turn your heart toward God more frequently and passionately. What could be greater than that?" —Max Lucado, Author & Pastor
"Holy Roar is a very important book in this season in history. I believe this book will help the greater church become rich in understanding, as the Holy Spirit leads us to live authentic, purposed, worshipful lives before our gracious and loving God. To Him be all the glory!" —Darlene Zschech, Worship Leader & Songwriter
"Wow! There is so much packed into this book. So many great stories and Bible!! I will be reading this one over and over again. What a great tool for all of us. We will definitely be including this as curriculum in our worship university." —Brian Johnson, Worship Leader & Songwriter, Bethel Music
"In a powerful yet practical revelation of worship, Holy Roar ignites a passion in us to fulfill our greatest calling. I believe this book will play a major role in the church's understanding of worship in years to come." —Banning Liebscher, Jesus Culture Founder and Pastor Author of Rooted: The Hidden Places Where God Develops You
---
Sunday night at Nashville's Church of the City, Elisabeth Hasselbeck helped Tomlin and Whitehead celebrate the release of HOLY ROAR, talking with each about the inspiration behind the book, its purpose, and how it has affected each of them personally. Woven throughout the night Tomlin performed some of the worship songs from the book including, "We Fall Down" and "How Great Is Our God."
In HOLY ROAR, Tomlin and Whitehead share a fresh perspective from the worship practices of the ancient world. The book aims to grow readers in their understanding of praise as Whitehead offers unique insights, and be inspired as Tomlin shares how those insights take shape in the stories behind favorite worship songs.
Kicking off later this week on October 12th in St Louis, MO., Tomlin will launch his Good Good Father Tour, during which Whitehead will share from HOLY ROAR. Hitting 18 cities across the U.S., the tour will also feature special guest Matt Maher. For tour dates information and tickets click here.
For more information on HOLY ROAR, please visit HolyRoar.com.
About Chris Tomlin:
With 11 albums, 16 #1 radio singles, a GRAMMY® award, 21 Dove awards, and two platinum and five gold albums to his credit, Chris Tomlin is among the most well-known and influential artists in music. His songs include "How Great Is Our God," "Amazing Grace (My Chains Are Gone)," "Our God," and most recently "Good Good Father," to name a few. It is estimated that each week 20-30 million people sing one of Tomlin's songs in worship. More than anything, Chris loves being a husband to Lauren and a dad to Ashlyn and Madison.
About Darren Whitehead:
Originally from Australia, Darren Whitehead founded Church of the City in Nashville, Tennessee in 2013. Each weekend more than 5000 people worship at one of the four locations across the metro area. Prior to this, Darren served at Willow Creek Community Church in Chicago, Illinois as a Teaching Pastor. Darren earned his Masters in Ministry and is currently completing his Doctorate. He lives with his wife, Brandy, and their three daughters, Sydney, Scarlett and Violet in Nashville, Tennessee.
##