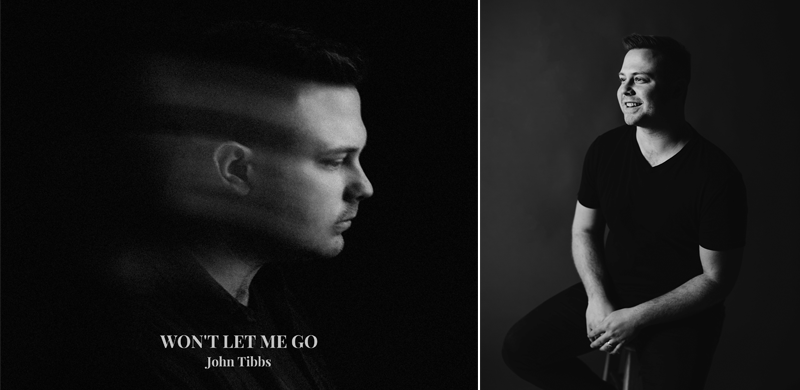 PledgeMusic Preorder Of EP Features "Won't Let Me Go" Instant Download, Limited Edition Exclusives Through July 14
Singer/songwriter John Tibbs returns to his independent roots in partnership with PledgeMusic and Tone Tree Music for his Heartland EP set to release this fall on Windmill & Wave Records. Through July 14, pledgers who preorder the EP at www.pledgemusic.com/projects/johntibbs will receive an instant download of the first single from the recording, "Won't Let Me Go."
Produced by Ben Shive (Colony House, Rend Collective, Ellie Holcomb), the single has already become Tibbs' top-played song on Spotify while the song's lyric video gathered 45,000 views and 600 shares on Facebook in just the first two days following its release.
"I sing this song as a reminder to myself to spend less time worrying, and more time dreaming," says Tibbs of the new single. "I sing it in hopes that it may encourage someone else to be bold and pursue that thing that scares them to death. I think fear is only a sign that our dreams are getting close to becoming a reality."
In addition to the new single, PledgeMusic is offering a variety of limited-edition products and exclusives from Tibbs, including a Skype meeting and a walking tour of Nashville with Tibbs, an invitation to a listening party for the new album, an acoustic concert at the pledger's house by Tibbs and much more. All pledgers will also gain exclusive access to new music, videos from the studio, photos from the road, sneak peeks at unfinished tracks and more.
"Heartland is my best music yet, and I was determined to bring you guys into the process as much as possible," shares Tibbs. "I believe the purpose of music is to create meaningful connection and partnering with PledgeMusic was the perfect way to make music with a community.
"Each song in Heartland embodies the place where I learned the stuff of life – fear, love, anger, doubt and hope," adds Tibbs. "As a proud, homegrown boy of the Midwest, I'm tipping my hat to the greats that shaped my youth, like Bruce Springsteen, John Mellencamp and Tom Petty. But more than anything, I hope that when you hear this record and listen to these songs, you hear my heart. Because I mean every last bit of it."
About John Tibbs:
Hailing from the Midwest and the son of a preacher and teacher, American roots rock singer/songwriter Tibbs built his success the old-school way: by playing concerts, writing great songs and truly caring about those he meets along the way. Catapulted into the music industry by a successful release with NoiseTrade.com and an online community of more than 100,000 supporters who helped crowd-fund his independent recordings Swallowing Death, Breathing Life (2012) and Anchor (2013), it wasn't long before he'd piqued the interest of major record labels.
In 2016, Tibbs released his full-length label debut, Dead Man Walking, to widespread critical acclaim from Fair Trade Services alongside Columbia Records. The album garnered a Rock/Contemporary Album of the Year Dove Award nomination and included Billboard hit singles like the title track featuring Ellie Holcomb, as well as "Anchor" and "Everything I Need." The success also sparked Indianapolis 500 chapel performances and tours with Newsboys, Casting Crowns, Jeremy Camp, Matt Maher and Crowder, plus another 200 solo concerts in just the last two years.
Having also toured with Tenth Avenue North, Audrey Assad and Gungor, Tibbs, who has had a stutter since his childhood, spends time encouraging others like himself everywhere he travels. "I believe we need to normalize things like that and encourage folks, especially children, that the way we are made is beautiful in and of itself," says Tibbs, who currently resides in Nashville with his wife, Emily, and their dog, Lady.
For more information on John Tibbs, including tour dates and social media links, visit www.JohnTibbsMusic.com.
About Tone Tree Music:
Established in 2010, Tone Tree Music offers sales, retail marketing and distribution for independent artists. Tone Tree Music has represented such acclaimed artists as The Civil Wars, Lindsey Stirling, Audrey Assad, Holly Williams, Peter Bradley Adams, Jars of Clay, Ruelle, Joy Williams, Birdtalker, HalfNoise, Marc Scibilia and more. (www.tonetreemusic.com)
##