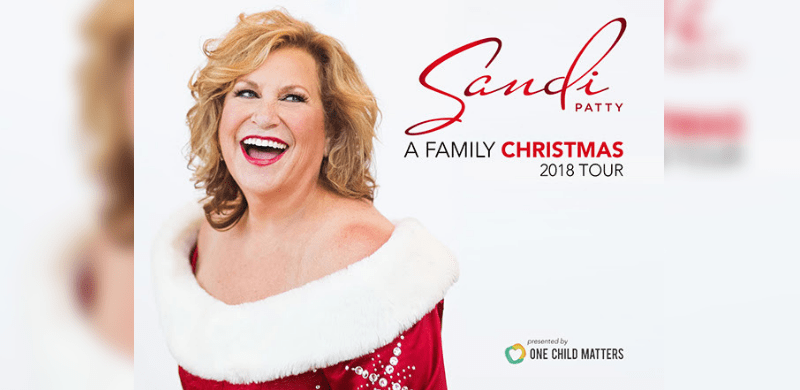 NASHVILLE, Tenn. – Christian music icon, Sandi Patty, today announces her first-ever family Christmas tour, aptly titled A Family Christmas. The tour kicks off November 30, 2018, and concludes on December 21, 2018, playing 14 cities including stops in Texas, Illinois, Tennessee and more!
An evening with A Family Christmas will feature Sandi's family – husband Don and their children – taking the audience on a musical journey through Christmas, sharing classics such as "O Holy Night" along with other songs and carols arranged just for the family.
"Every year at Christmas, music is a part of our family's tradition," says Sandi. "Now, for the first time ever, we're excited to bring our Christmas traditions to life on this tour – it'll be just like spending Christmas Eve together! We're going to have a wonderful time celebrating the birth of Jesus, the true reason for the season."
One Child Matters – a child advocacy organization – will be the primary sponsor of the tour. DR Artist Management, Nashville, will serve as the primary promoter of the tour.
Tickets for Sandi Patty's A Family Christmas will go on sale Friday, October 12, 2018, at 10 AM CT.
For more information and to stay up to date with Sandi Patty, please visit SandiPatty.com
SANDI PATTY A FAMILY CHRISTMAS TOUR DATES:
11/30 Belleville (St. Louis), IL
12/5 Orlando, FL
12/7 Lenoir, NC
12/8 New Albany, IN
12/13 Ft. Worth, TX
12/14 San Antonio, TX
12/15 Hot Springs, AR
12/16 Murfreesboro, TN
12/18 Dothan, AL
12/20 Marietta, GA
12/21 Marion, IL
ABOUT SANDI PATTY:
As one of the most highly acclaimed performers of our time with five Grammy® awards, four Billboard Music Awards, three platinum records, five gold records, and eleven million units sold, Sandi Patty is simply known as "The Voice."
Sandi is the most awarded female vocalist in contemporary Christian music history, with 40 Dove Awards. She was inducted into the GMA Gospel Music Hall of Fame in 2004 and as an Indiana Living Legend in 2007. She has released over 30 albums and this November 2018, will release her latest book, The Voice.
Sandi was introduced to the world with her rendition of The Star Spangled Banner during the rededication of the Statue of Liberty in 1986. Virtually overnight she became one of the country's best-loved performers. Her version of the national anthem has become synonymous with patriotic celebration, including performances at "A Capitol Fourth" with the National Symphony, the Indianapolis 500, the Dedication of Camp David Chapel, and ABC's Fourth of July Special.
While her thirty-year career is heavily rooted in the gospel music industry, Sandi has had the opportunity in more recent years to extend her career outside the genre. Sandi has performed with symphonies across the country, including the New York Pops, Boston Pops, Cincinnati Pops, Dallas Symphony, Baltimore Symphony, Houston Symphony, and Oklahoma City Philharmonic. She also headlined the title role in sold-out performances of the musical "Hello, Dolly!" with the Indianapolis Symphony Orchestra, co-starring Tony Award winner Gary Beach in January 2012.
In addition to her prolific musical career, Sandi is also an accomplished author. For the bestseller Broken on the Back Row, Sandi received the 2006 Silver Angel Award. Her down-to-earth style and sturdy common sense have endeared her to Women of Faith® audiences, with whom she has traveled with since 2005. She's an example to all of us of the freedom that comes from learning how to move on, learning from her mistakes and letting God use her in any circumstance.
"I am grateful for the many opportunities for God has given in my life and for how He has allowed me to spread my wings," says Sandi. "Singing is my way to tell my story of hope, life, and love."
Sandi and her husband, Don, have eight children. They currently reside in Oklahoma City, OK.
##