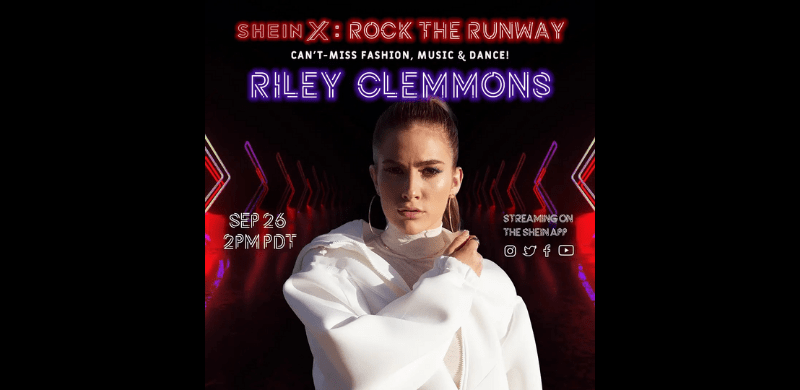 NASHVILLE, TN – On September 26th, artist on the rise Riley Clemmons will join a star-studded line up of artists including The Chainsmokers, Saweetie, Darren Criss, and Thuy at SHEIN X ROCK THE RUNWAY 2021. The virtual event is an exciting hybrid-special that is part music concert, mixed with innovative choreographed dances in a non-traditional fashion show. She will perform "Stuck Inside My Head" from her album Godsend, which was released earlier this year to critical acclaim. SHEIN X ROCK THE RUNWAY 2021 will be available on the SHEIN app, YouTube, Instagram, Facebook, and Twitter beginning at 2 PM PDT.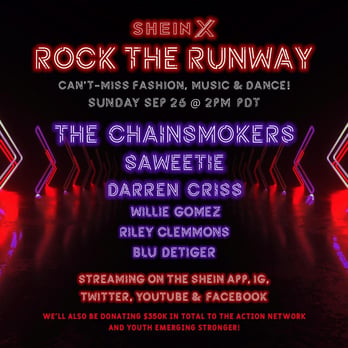 With a social media reach of over 58 million, SHEIN has quickly becoming one of the fastest growing e-tailers in the world. They offer a fresh mix of fashion, home, pet care, and stylish trends at an affordable price for anyone at any age.
Riley Clemmons is a 21-year-old artist from Nashville, TN who has accumulated nearly 250 million global streams and 50 million YouTube video views in her young career. After spending years honing her craft in writers' rooms, Riley sky-rocketed onto the scene with her 2017 Capitol CMG debut single "Broken Prayers," which has generated over 30 million global streams to date. Her 2018 self-titled album debut quickly entered the Billboard Heatseekers chart, entering at No. 13. Her latest album, Godsend, has received wide critical acclaim and has quickly established Riley as an artist to watch. The album's single, "Keep On Hoping," has become the fastest growing single of her young career, breaking Top 20 on Billboard and MediaBase Radio charts while garnering millions of streams worldwide. An accomplished composer, performer, producer, and recording artist, Riley draws inspiration from life experiences, blending musical influences ranging from pop to classic rock to create music that is as catchy as it is relatable.