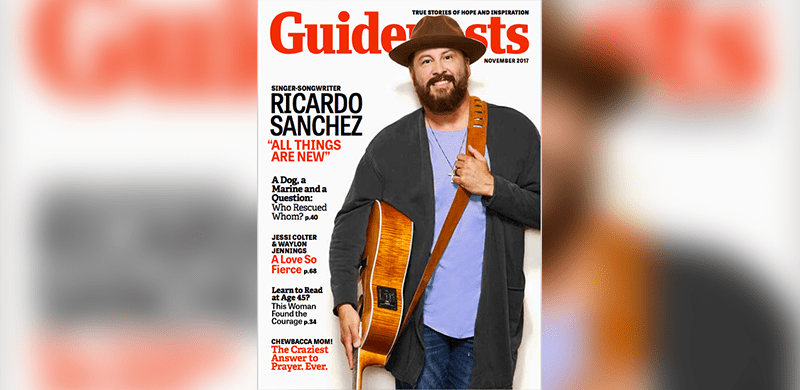 NASHVILLE, Tenn.—GRAMMY® Award-nominated and Dove Award-winning worship leader and Difference Media recording artist Ricardo Sanchez is marking another first in a celebrated career with his November cover story in Guideposts magazine, one of the most-read publications in the country. Sanchez joins the ranks of Lester Holt, Taraji P. Henson, Kristin Chenoweth, and Reba McEntire as 2017 cover stories.
In "All Things Are New," Sanchez shares with Guideposts readers the family's emotional journey after his 9-year-old son Josiah broke his neck while diving into a friend's swimming pool—and the hope and peace they found in God amidst the tragedy. Having experienced a full recovery, Josiah's miracle serves as a constant reminder to the Sanchez family of life's priorities—and God's goodness and faithfulness. Today, 16-year-old Josiah stands 6-foot-5 and is a star on his high school basketball team. Read the full story here.
Guideposts is a faith-based non-profit organization founded in 1945 by Dr. Norman Vincent Peale. Guideposts is ranked in the Top 30 of US magazines, with more than 5 million readers.
Ricardo Sanchez has helped pen some of the most influential songs in modern worship, including "Power of the Cross," "I Call Your Name," "Great God," and the Dove Award-winning "The Power of One." His musical signature, "It's Not Over (When God Is In It)," was recorded by Israel & New Breed and inspired Sanchez's 2012 book, It's Not Over: How To Keep Moving Forward When You Feel You're Losing The Fight. He earned a 2010 GRAMMY® nomination for Best Gospel Song as co-writer of "Every Prayer," and Sanchez's 2015 Difference Media debut, Grand Symphony, received the inaugural Album of the Year – Gospel trophy at last year's Tejano Music Awards. His latest recording, Taste + See, a live worship set recorded at San Antonio's Cornerstone Church, released in August.
For further information visit ricardomusic.com.
##