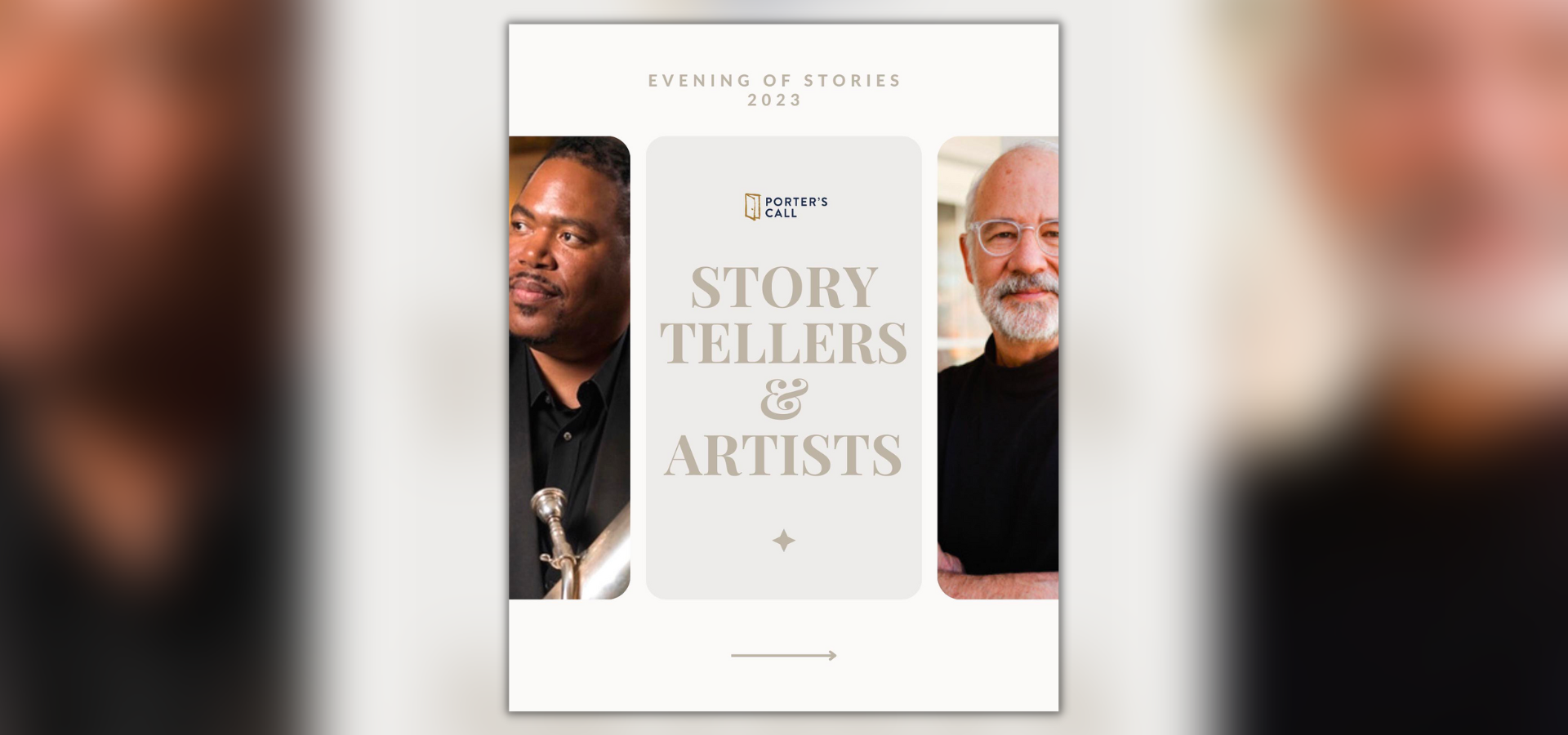 Porter's Call, a non-profit dedicated to providing counsel, support, and encouragement for touring recording artists and their loved ones, announces its 14th annual "Evening of Stories" will take place on August 29, 2023, at 7:30 p.m., at the Fisher Center for the Performing Arts at Belmont University.
As in previous years, "Evening of Stories" continues to feature an eclectic group of storytellers and musical guests, all weaving their unique, moving, and often humorous tales and talents into the fabric of a magical evening. This year's featured storytellers are Porter's Call Founder and Executive Director Al Andrews as well as Dr. Richard Antoine White, a professional tuba player. Musical guests will be Paramore, Brandon Heath, and Lucie Silvas. All proceeds from "Evening of Stories" support the work of Porter's Call.
Acclaimed as a powerfully curated evening combining art and hope while promising to uphold its reputation for putting the "fun" back into fundraisers, Porter's Call is honored to share this special evening at The Fisher Center, Nashville's newest prestigious performing arts facility.
ABOUT THIS YEAR'S STORYTELLERS: Dr. Richard Antoine White is a best-selling author, inspirational speaker, professor, and principal tubist. He is the bestselling author of the memoir I'm Possible: A Story of Survival, a Tuba, and the Small Miracle of a Big Dream, and an inspirational speaker who has traveled the world sharing his thoughts, experiences, and the philosophies that have shaped and motivated him. In 2022, along with his colleague, the renowned musician Pamela Pyle, he launched The RawTuba Foundation–a multi-disciplinary teaching and tutoring facility for adults and children, as well as an illustrated children's book explaining diversity through the instruments of the orchestra. Dr. White is a Professor of Tuba/Euphonium at The University of New Mexico and a Principal Tubist of the New Mexico Philharmonic and the Santa Fe Symphony. He is also certified in Diversity and Inclusion training from Cornell University. Visit his website rawtuba.com for more information.
Al Andrews is the Executive Director of Porter's Call, a non-profit he founded in 2001. A 1976 graduate of the University of North Carolina, he is a lifelong Tar Heels fan. He is the co-author of The Silence of Adam, the author of an illustrated children's book The Boy, the Kite and the Wind, and a Christmas book, A Walk One Winter Night. Al loves Southern writers (particularly Wendell Berry and Pat Conroy) and poets (particularly Mary Oliver and Billy Collins), is quite partial to chicken wings, and loves live music and theater. He lives in Nashville, Tennessee with his poet/artist/counselor wife of 32 years, Nita, and they have two sons, Brent 26, and Hunter 29. Previous "Evening Of Stories" artists and storytellers have included Amy Grant, Vince Gill, Scott Hamilton, Poet Laureate Billy Collins, Kelsea Ballerini, Bear Rhinehart, Beth Nielsen Chapman, Holly Williams, Bob Goff, Thomas Rhett and Lauren Akins, Drew and Ellie Holcomb, Andrew Peterson, Ben Rector, David Wilcox, Andy Gullahorn, Carlos Whittaker, Nichole Nordeman, Jill Phillips, Devon Gilfillian, Emily West, Lindsay Ell, Ian Morgan Cron, Donald Miller, Jon Acuff, poets Amena Brown and Kevin Young, Hillary Scott (Lady A), and many more. Visit HERE to find further information!
Porter's Call has been bringing well-being and relief to recording artists and their loved ones for 22 years, offering counsel, support, and encouragement at no charge in a confidential and private environment. To date, the Porter's Call team has spent 70,000+ hours working for and with their clients, saving them millions of dollars on counseling fees. As a 501(c)(3) non-profit, its unique mission is sustained entirely by donations and sponsorships. "Every day, our team has the privilege of offering a safe and confidential space for artists to be off-stage and deal with the issues they face," shares Al Andrews. "With 'Evening of Stories,' we pride ourselves on creating a hope-filled event that is not just talent-packed but heart-changing, and you can become a part of the larger story with us."
HOW CAN YOU ATTEND THIS NOT-TO-BE-MISSED ANNUAL EVENT? As the primary fundraising event for Porter's Call, "Evening of Stories" seeks to raise at least one-third of the organization's annual operating budget, thus allowing more time and attention to be focused on the mission of serving touring and recording music artists. Sponsorships are available for individuals, businesses, foundations, churches, or any group that wants to support the mission of Porter's Call, including priority seating for the show, a VIP reception, and recognition within marketing materials. Sponsorships are tax-deductible, less the cost of goods and services received. For information about sponsor packages, contact Ashley Holland at Ashley@porterscall.com. Individual tickets for this year's event will be available later this summer.
##