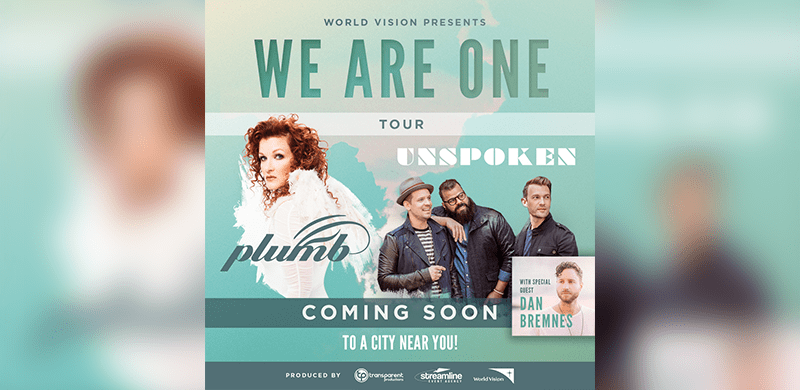 19 Markets Across the U.S. This Fall,
Tickets on Sale Today
Costa Mesa, Calif. (July 13, 2018) – Radio chart-topping artists, Plumb and Unspoken, will be hitting the road together this Fall to bring the co-headlining 'We Are One' tour across the country with nineteen tour stops across eleven states from
September 18 – October 21
. Also joining the tour is special guest, Dan Bremnes. Tickets go on exclusive pre-sale today through July 15, with a public on-sale on Monday, July 16 at 10 a.m. local time. Group tickets and VIP packages with meet-and-greet opportunities will be available.
"So honored to be a part of the WE ARE ONE TOUR walking arm and arm with Unspoken and Dan Bremen's about oneness. Equality with Quality. Where its not about "male or female" but rather, human," says Plumb. "The We Are One tour is us ALL…united in our humanity…with one common goal… To share the hope of Jesus Christ through art with the world. It will be a night you will never forget."
The tour comes on the heels of Plumb's 8
th
studio album release,
Beautifully Broken
, which released June 22, 2018 and features her newest single "God Help Me" and "Beautifully Broken", which is featured in Big Film Factory's new feature film with the same name
.
The Dove Award-winning artist is also releasing her sophomore book, Fight For Her, on
August 24
. Plumb's numerous radio accolades include 24 #1 singles across the US, UK, Europe & Russia in her decade-plus career as a songwriter and recording artist.
Unspoken closed out the spring on a multi-city headlining tour alongside Citizen Way, The Breakthrough Tour, which hit 15 cities. The bands new single, "Just Give Me Jesus" will be one of several new songs released this fall ahead of their forthcoming third album set to release early 2019.
"We can't wait to hit the road with our friend Plumb. Her heart and passion for these nights to be meaningful, encouraging and restoring resonates with us deeply," says Chad Mattson of Unspoken. "We want people to walk away from this night not just being entertained because you can get that anywhere, but rather, leave with an experience that is transformative, life-changing and that you'll never forget. We're preparing a lot of new songs for the tour and we're super excited to share them with everyone."
We Are One Tour
*More dates to be added
September 18
: Immanuel Baptist Church – El Paso, TX
September 20
: Word of Life Church – Las Vegas, NV
September 21
: FivePoint Amphitheatre – Irvine, CA (Fish Family Night)
September 22
: Palmdale Amphitheatre – Palmdale, CA (Gracefest)
September 23
: Papa Murphy's Park – Sacramento, CA (Kingdom Come Sacramento)
September 25
: Cornerstone Assembly of God Church – Crescent City, CA
September 30
: The Way World Outreach Church – San Bernardino, CA
October 4
: Christ Community Church – Beatrice, NE
October 5
: First Baptist Church of Warrensburg – Warrensburg, MO
October 6
: Sunnyvale First Baptist Church – Sunnyvale, TX
October 7
: First Baptist Church – Muskogee, OK
October 11
: Christ Chapel – Florence, AL
October 12
: Eastern Hills Baptist Church – Montgomery, AL
October 13
: Dunwoody Baptist Church – Dunwoody, GA
October 17
: FBC Crystal Springs – Crystal Springs, MS
October 18
: First Baptist Church – Greeneville, TN
October 19
: Oak Grove Baptist Church – Colonial Beach, VA
October 20
: Tabernacle Church of Norfolk – Norfolk, VA
October 21
: Pritchard Memorial Baptist Church – Charlotte, NC
About Plumb
With 2018 came the release of the single "Beautifully Broken" featured in Big Film Factory's film sharing the same title
August 24th 2018
. PLUMB's newest album, BEAUTIFULLY BROKEN, was released June 22nd 2018 in partnership with Centricity Music. The 11-track album showcases a powerful theme of releasing shame and trusting God's love, amidst our flaws and insecurities. Describing the album's message, Plumb says "Brokenness is a theme for humanity; I've experienced a lot of it in my own life. We get so scarred up, and all we see is our brokenness. It's important to accept that yes, we are broken and flawed, but at the end of day our identity is not found in our mistakes- those aren't who we are. Who we are is God's children; that alone makes us beautiful. We need to hear human stories and songs about people going through these battles with brokenness so we can say 'I've been through the same,' and feel the hope of not being alone." Plumb's sophomore book FIGHT FOR HER comes out
August 24th, 2018
.
About Unspoken
Since their debut on the Christian Music landscape, UNSPOKEN has impacted millions with their energetic, passionate music. From touring with artists such as Casting Crowns and MercyMe to their multiple #1 radio singles, UNSPOKEN has communicated a message of hope, redemption, and recovery. The new single, "Just Give Me Jesus", from UNSPOKEN's forthcoming third studio album continues their reputation of honest, vulnerable lyrics combined with an emotional intensity and passion.
##