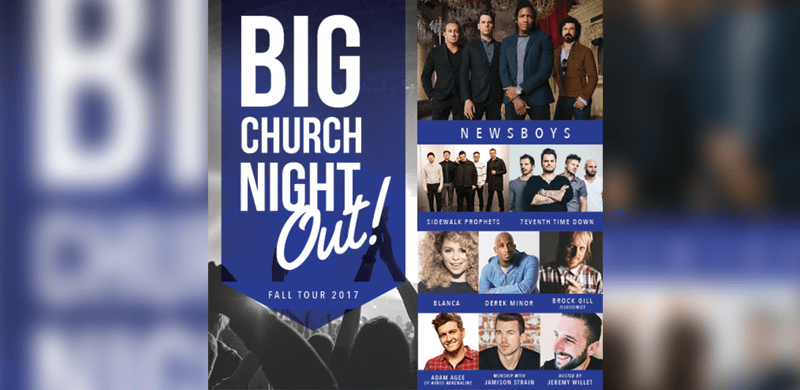 Big Church Night Out Takes Over Pandora's Christian Contemporary Station July 5th-July 13th
Public On Sale Friday, July 14th at 10 am
Nashville, Tenn. (July 5, 2017) – Premier Productions and GRAMMY® nominated Newsboys announce the all new Big Church Night Out Tour. With nearly fifty shows across the U.S., each night will foster a time of worship, ministry and unity. Joining the tour will also be Sidewalk Prophets, 7eventh Time Down, Derek Minor, Blanca, Adam Agee from Audio Adrenaline, illusionist Brock Gill, worship leader Jamison Strain, and Jeremy Willet.
"When families, friends, and neighbors take time out of their busy lives to come together and join as one in worship, that is the church," says Newsboys Michael Tait. "That is the makings of one BIG night, and we could not be more thrilled to be a part of it."
Powered by Pandora and CCM Magazine, the tour will offer a chance forrejuvenation in exchange for the chaos and business of everyday life. In anticipation for the tour, Big Church Night Out will be taking over Pandora's Christian Contemporary station from July 5th to July 13th offering a pre-sale to listeners as well as in-depth interviews from Newsboys front man, Michael Tait.
Kevin Sparkman, editor of CCM Magazine shares about the upcoming tour, "Go Big. Real big. A night-out that everyone needs!"
Hitting the East Coast, South and Midwest, the tour will begin in Montgomery, Alabama and make its final stop in Charlotte, North Carolina.
"The concept behind this tour has been in the works for over three years," expresses Roy Morgan, owner of Premier Productions Inc. "Timing is everything, and the launch of Big Church Night Out this fall will create a new touring brand in the marketplace for many years to come. Plus, it will be the first time that Pandora has provided its digital assets to support a Christian tour, along with the marketing efforts of our strategic radio partners and local churches."
Big Church Night Out Tour
*All dates subject to change. More dates to be added.
9/21 Montgomery, AL
9/22 Chattanooga, TN
9/23 Raleigh, NC
9/24 Florence, SC
9/28 Topeka, KS
9/29 Tulsa, OK
9/30 Beaumont, TX
10/1 Hidalgo, TX
10/5 Colorado Springs, CO
10/6 Amarillo, TX
10/7 Wichita Falls, TX
10/8 Austin, TX
10/13 Kalamazoo, MI
10/14 Bloomington, IN
10/15 Champaign, IL
10/19 Corinth, MS
10/20 Atlanta, GA
10/21 Pikeville, KY
10/22 Highland Heights, KY
10/26 Monroe, LA
10/27 New Orleans, LA
10/28 Tallahassee, FL
10/29 Estero, FL
11/9 Augusta, ME
11/10 Danbury, CT
11/11 Amherst, MA
11/12 Erie, PA
11/16 Cleveland, OH
11/17 Toledo, OH
11/18 Rochester, NY
11/19 Utica, NY
11/30 Shreveport, LA
12/1 Springfield, MO
12/2 Cape Girardeau, MO
12/3 North Little Rock, AR
12/7 Owensboro, KY
12/8 Rockford, IL
12/10 Moline, IL
12/14 Johnstown, PA
12/15 Bethlehem, PA
12/16 Baltimore, MD
12/17 Charlotte, NC
*Artists may vary by date.
About Premier Productions:
Pollstar Magazine ranks Premier Productions as the largest producer of live Christian events both nationally and internationally. Over 18 million people have attended a Premier event in over 4,000 concerts worldwide. Premier promotes Tours for Hillsong UNITED, Hillsong Worship, Young & Free, Kari Jobe, Jesus Culture, Lecrae, Lauren Daigle, Gaither Homecoming, Sadie Robertson, The Newsboys, comedian John Crist, Rend Collective, as well as their annual Winter Jam Tour Spectacular and OUTCRY Tours. Premier Festivals promotes 10 of the largest Christian Festivals in the U.S, and over 80,000 Passengers have sailed with them through their Cruise Company.
Get Connected With Premier Productions:
https://www.premierproductions.com
https://twitter.com/premproductions
https://www.instagram.com/newsboys/
##