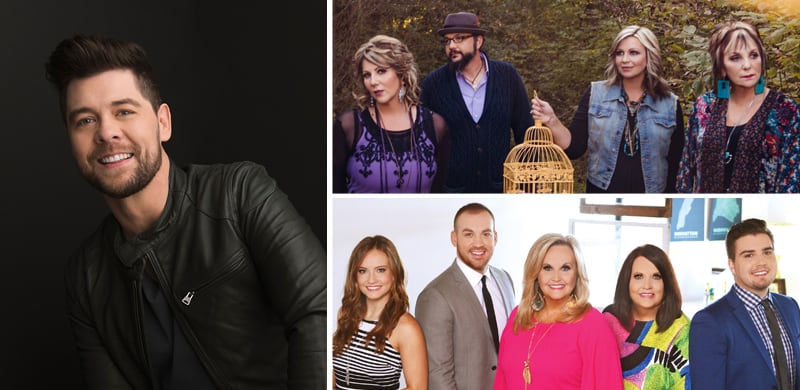 Night of Gospel Music to be Highlighted with Performances by Jason Crabb, The Isaacs, Karen Peck & New River, and Many More!
The administrators and staff of AbsolutelyGospel.com are proud to announce the first list of performers for the upcoming Absolutely Gospel Music Awards Celebration. This year's celebration will feature performances from many of the top nominated artists which include GRAMMY® and Dove Award winning singers and songwriters.
This year's Awards Celebration will feature performances by GRAMMY® Award-winning vocalist Jason Crabb and GRAMMY® nominated artists The Isaacs and Karen Peck & New River in addition to acclaimed artists Lauren Talley, Tribute, 11th Hour, HIGHROAD, Bowling Sisters, The Wilbanks, Ball Brothers, Riley Harrison Clark, and Chris Freeman. Additional artists are still being confirmed.
"Without exception, this year's performers represent the best our genre of music has to offer," mentioned Deon Unthank of AbsolutelyGospel.com. "We are excited to host some of our perennials favorites as well as new names who've never shared the stage on such a fun night!"
In addition to performers, site administrators are proud to announce the venue for this year's event. This year's Awards Celebration will again take place at Nashville First Church of the Nazarene in downtown Nashville. This location continues to feature more seating and the ability to stream the program live.
"This was such a great move for this event last year," commented Deon Unthank. "The staff at Nashville First Church of the Nazarene were so accommodating that it just made sense to stay here again. The feedback we received from fans, artists, and industry professionals about the move was beyond positive. We are looking forward to another great year at this fantastic venue."
Tickets are now on sale for the program. For more information on that, visit www.absolutelygospel.com or email seats@absolutelygospel.com.
As far as nominations go, perennial favorites Karen Peck & New River and The Isaacs landed the most nominations this year. Both groups landed a stellar eight nominations apiece including individual nods in the Song of the Year category (for "I Am Blessed" and "This Is the Year" respectively) and Fan Favorite Artist of the Year. Both groups also had individuals land in hotly contested categories like Female Vocalist of the Year (for New River's Karen Peck Gooch and The Isaacs' Sonya Isaacs Yeary respectively) and Songwriter of the Year (Artist) for Gooch and Becky & Sonya Isaacs.
Another perennial favorite, producer/songwriter Wayne Haun was the most nominated individual this year, taking a strong 10 nominations for his work this past year, including three separate Album of the Year mentions for his production work this year. Those three nominated projects included Tribute's Here For You, Legacy Five's In the Hands of the Carpenter, and The Erwins' Only Faith Can See.