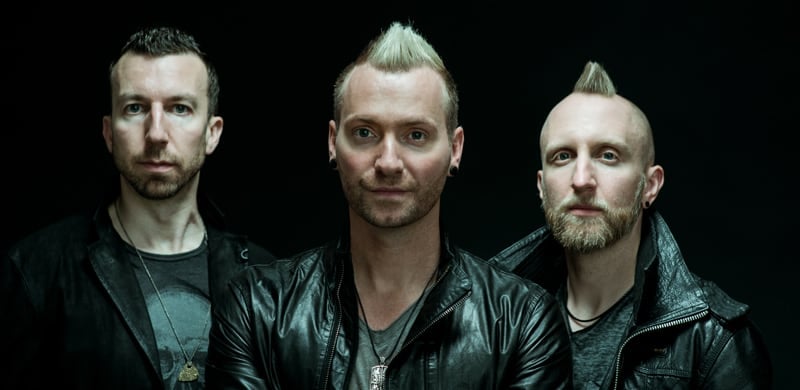 "Push" Top 15 SiriusXM Octane Big 'Uns Countdown Hit Three Consecutive Months
TFK Receives "Artist," "Song," "Album Of The Year" Covenant Awards Nominations
Known for its adrenaline-fueled anthems that consistently fire-up sports enthusiasts around the world, Thousand Foot Krutch's "A Different Kind Of Dynamite" has been tapped as the official theme song for the Dec. 18 WWE "Roadblock: End of The Line" pay-per-view event. WWE programming is broadcast in more than 180 countries and 25 languages and reaches more than 650 million homes worldwide.
"A Different Kind Of Dynamite" is from TFK's current album, EXHALE, which launched this past summer amidst wide acclaim on TFK Music and with marketing, sales and distribution through The Fuel Music.
Premiered by Revolver earlier this year, TFK vocalist, songwriter Trevor McNevan says, "'A Different Kind of Dynamite' is a full out barn burner, pun intended. It explodes with energy and is a roundhouse of action packed riffs and wordplay. You've heard it said that 'actions speak louder than words.' Instead of blunt force, the weapons of choice here are love against hate, and faith against fear. We fight with a different kind of dynamite."
Staying true to themselves, Thousand Foot Krutch members McNevan, bassist Joel Bruyere and drummer Steve Augustine have carved an independent path that continues to rack-up accolades well beyond its major label successes. The aggressive follow-up to the band's 2014 album, OXYGEN:INHALE, EXHALE leapt into the Top 15 on SiriusXM Octane's Big 'Uns Countdown Sept. 12 with its second single "Push," which remained on the chart for three consecutive months. The song is being, or has been, featured by Spotify, Clubcom Network, iHeartmedia, Slacker Radio, AOL Radio, Revolver, IndiMusic TV and many more.
The album's first single, "Running With Giants," also became TFK's first music video since 2012. The long-awaited, Loudwire Cage Match Hall of Fame video and single stormed onto playlists internationally as Apple Music tweeted, "Digging this new Thousand Foot Krutch record" and exclusively streamed EXHALE week of release. The album went on to hit No. 1 on iTunes' Rock Top Albums chart (No. 3 overall Albums) in the US with Top 5 overall albums chart placement in multiple countries. The album also became the band's third consecutive No. 1 on the Top Christian/Gospel Albums chart.
EXHALE and TFK are further nominated for three GMA Canada Covenant Awards, including "Artist," "Album" and "Song of the Year" ("Running With Giants"). GMA Canada and The World Vision Artist Collective will present The 38th Annual Covenant Awards Jan. 26 in Edmonton, AB Canada. The Covenant Awards are the leading national awards for Canadian Christian Music.
In addition to aforementioned songs, EXHALE features riff rockers "Incomplete" and "Give Up The Ghost," second chances-themed "Born Again" and Revolver-premiered "Lifeline." Available from iTunes, Amazon.com, Best Buy and everywhere great music is sold internationally, the album is meant to shake stereo speakers and earbuds, all the while being crafted to be fully experienced live.
Taking the new arena-shaking anthems and fan favorites on the road to see their extended family of fans coast-to-coast, TFK was featured for the first time this past summer on the mainstage at Monster Energy Carolina Rebellion and Rocklahoma, and will be taking its music to arenas across America beginning in January. All the latest tour news and band information can be found at www.thousandfootkrutch.com, Twitter, Instagram, YouTube, Google+, Bandsintown and Facebook, where the band has over one million likes.
About Thousand Foot Krutch:
Ontario, Canada-bred TFK has been a continuously escalating highlight reel since their formation in 1997. With over 1.1 million albums sold, 11 Active Rock radio hits, numerous soundtrack slots, plus a massive presence in professional sports, the group has literally infiltrated every facet of pop culture. Continuing to receive ongoing ESPN appearances, as well as various NASCAR, MLB, NHL, WWE, NCAA and NFL airings (including the 2010 Super Bowl), TFK has songs featured in EA Sports' NHL 2010 and 2013 video games and tallies about 30,000,000 monthly views in combined streaming across all of YouTube. Just since going independent in 2012, TFK has sold over 455,000 albums, over a million singles, garnered more than 206 million streams and charted nine Active Rock radio hits.
About The Fuel Music:
Established in 2008, The Fuel Music & Management, LLC, is a leading artist management and artist solutions company that independently distributes music internationally. Based in Tennessee, the Fuel team brings nearly 70 years of combined music industry experience in record label operations, major label distribution and marketing, and artist management for artists ranging from upstart bands to GRAMMY Award nominated, multi-platinum artists. More information on the company can be found at www.thefuelmusic.com.
##
Media Contact:
Rick Hoganson
Hoganson Media Relations
615-459-9870
Hoganson@comcast.net